Recipe For Walking Tacos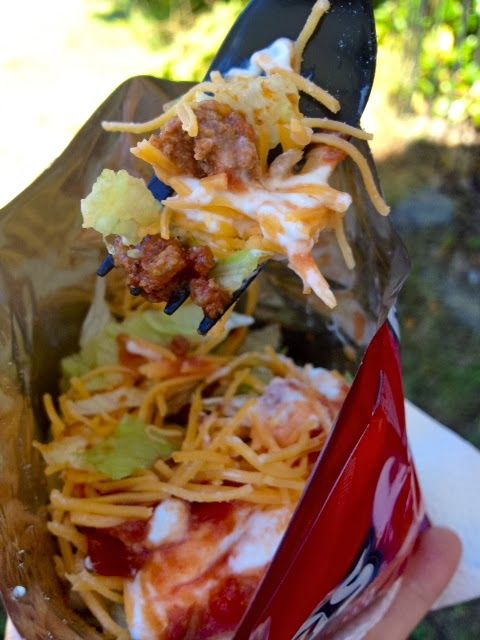 Let me share with you a quick and easy recipe for Walking Tacos because I know your family is going to love them like we do.
I love to make these on a hot summer day. We have a a big crock pot that runs off of the Little Propane Green Bottles. One family reunion I cooked up a bunch of seasoned meat and took Walking Tacos to the party. Oh my goodness every Cousin, Aunt, Uncle, Grandma and Grandma loved them.
WHY ARE THESE CALLED WALKING TACOS?
Because you serve them in a chip bag, making it super easy to eat and, walk around. Your family will not walk far they will be back for seconds.
INGREDIENTS YOU NEED…..
Ground beef
Taco seasoning…. you can use store-bought seasoning or try my
 homemade taco seasoning
Water – For the beef mixture.
ROTEL – Do not drain it, as you'll want the juice for extra flavor.
Chips…small–sized bags
TOPPING….add whatever taco toppings you'd like!
How About….
tomatoes
Mexican cheese blend
sour cream
salsa
kidney beans
onions
guacamole
lettuce
One pound of ground beef will make around 8 to 10 tacos.
These Walking Tacos are so DELICIOUS and AMAZING and the best kid friendly meal ever.
ENJOY!!
Ingredients
Instructions
In a large skillet over medium heat, brown the ground beef until no longer pink. Then add the chopped onion and continue to cook for about 5 to 6 minutes.

Add the Rotel tomatoes, taco seasoning and water to the skillet and cook until thickened, about 2 to 4 minutes.

Keep the Doritos inside the bag and crush them gently until the chips are slightly broken.

Add a heaping ¼ cup of taco meat to each bag. Layer your desired toppings directly into the bag of chips.

Use your favorite flavor of Doritos, Fritos, corn chips, or other tortilla chips to your liking.
---