Let's Make Root Beer Float Popsicles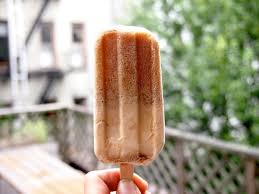 Who doesn't remember enjoying a delicious root beer float in the summer time. I remember as a child going to A&W getting those cute little mugs full of cold delicious Root Beer. What a treat that was!
Having Root Beer Float Popsicles brings back so many childhood memories.
I love to serve Root Beer Floats on a hot summer day to my family. It is a yummy way to cool everyone off.
You only need 2 ingredients to make these popsicles. Plus you will need popsicle molds.
You can find several inexpensive ones over at Amazon.
INGREDIENTS….
Root Beer
Vanilla Ice Cream
Popsicle Mold or disposable paper cups
Popsicle Sticks
Root Beer Float Popsicle Floats are so easy to make and such a FUN SUMMER TREAT!
WHAT ARE THE BEST TYPES OF ROOT BEER TO USE?
A&W….our favorite.
Barqs
Dad's Old Fashioned Root Beer
One bite and these root beer float popsicles will be your new favorite treat.
Ingredients
15 ounces  A&W® Root Beer
1 cup 1 cup vanilla ice cream
Instructions
Let the vanilla ice cream sit out for 5 minutes or until it becomes slightly melted. 

Fill each mold a third to half full of ice cream. 

Fill each mold with A&W Root Beer. It's easier to work with root beer that has gone flat. Allow the root beer to sit on the counter for about an hour before making the popsicles.Since the root beer will foam, let it sit for a minute until that foam goes down and fill some more until you have liquid to the top of each mold. 

Put the popsicle mold lid on and insert popsicle sticks. 

Let freeze overnight. To remove from popsicle molds, submerge molds in water careful not to reach the top and gently slide popsicles out of molds. Enjoy!
---