Yummy Cinnamon Doughnut Muffins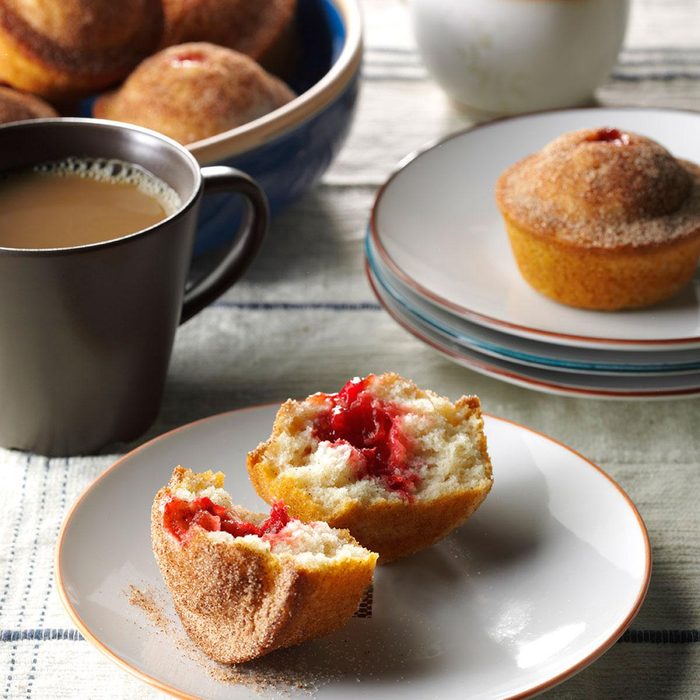 One of my friends had a slumber party when we were growing up. Her mother made these amazing muffins. They were so GOOD!! I could have eaten every one!
Let me tell you how to make these mouth-watering Cinnamon Doughnut Muffins from scratch.
These doughnut muffins are baked instead of fried, so there's no big mess to clean up. Love That!
Muffins are a delicious treat and there are so many yummy recipes. These Cinnamon Doughnut Muffins taste just like a Cake Doughnut rolled in cinnamon and sugar.
INGREDIENTS YOU WILL NEED…..
Sugar
Egg
Milk
Flour
Salt
Baking powder
Nutmeg
Cinnamon
Canola Oil
Strawberry jam or any flavor you like
This recipe I found this over at Taste Of Home. I have been making their homemade recipes for a long time.
I love to have baked goods in my kitchen whenever friends or family stop by. Make yourself some Yummy Cinnamon Sugar Doughnut Muffins, and I'm sure you'll have a new family favorite recipe to share.
Let's go make some….
Ingredients
1 3/4 cups all-purpose flour
1 1/2 tsp baking powder
1/2 tsp salt
1/2 tsp nutmeg
1/4 tsp cinnamon
3/4 cups sugar
1/3 cup canola oil
1 egg, lightly beaten
3/4 cup milk
10 tsp strawberry or other jam
TOPPING
1/4 cup melted butter
1/3 cup sugar
1 tsp cinnamon
Instructions
Preheat oven to 350°. Combine flour, baking powder, salt, nutmeg and cinnamon in a bowl. In a small bowl, combine sugar, oil, egg and milk; stir into dry ingredients just until moistened.

Fill greased or paper-lined muffin cups half full; place 1 teaspoon jam on top. Cover jam with more batter to fill muffin cups three-fourths full. Bake for 20-25 minutes or until a toothpick comes out clean.

Melt your butter in a small bowl. Put the sugar and cinnamon in another bowl. Take your muffins and dip tops into the butter and then in cinnamon sugar.Serve warm.
---