Slab Strawberry Shortcake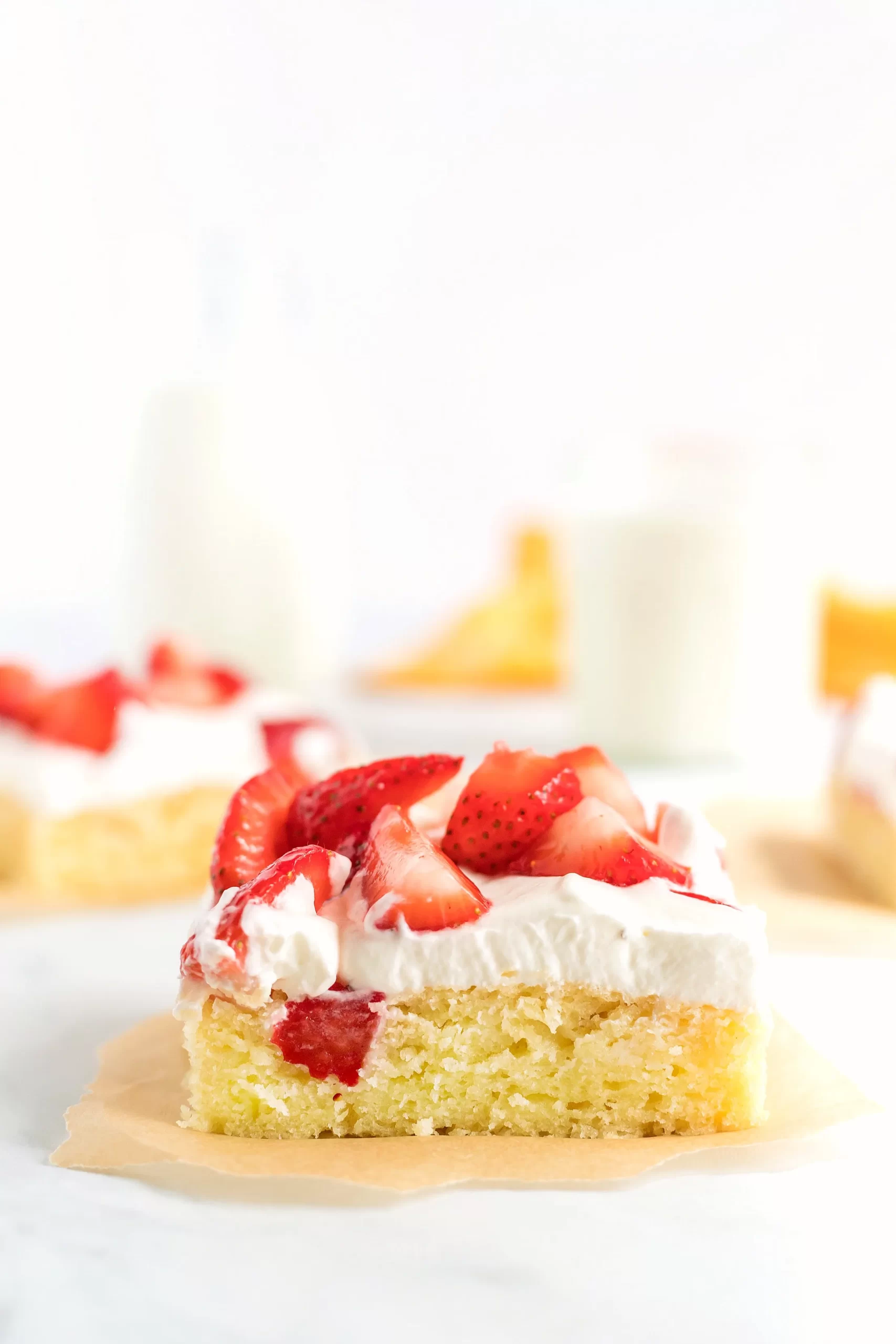 My strawberries are coming on and I pick some everyday. Sometimes I freeze them for smoothies, or make freezer jam or just eat them right in the garden if my grandkids don't get to them first. There are so many recipes to make with strawberries. Have you heard of Slab Shortcake? This recipe is the perfect way to dive into summer!I found this Slab Strawberry Shortcake that is amazing and a quick way to make a dessert for a crowd. It is a delicious shortcake recipe with homemade whipped cream and fresh sliced strawberries.I hope this becomes a special tradition for your family like it has ours!
Ingredients
2 1/2 cups  all purpose flour
3 tsp  baking powder
1/2 tsp  salt
1 3/4 cups granulated sugar
1/2 cup canola oil
2 large eggs
2 1/2 tsp vanilla extract
2/3 cup  sour cream
3/4 cup milk 
FROSTING
6 ounces cream cheese , softened
3/4 cup  powdered sugar
1/2 tsp  vanilla extract
1 1/2 cups heavy whipping cream
STRAWBERRY
5 cups  sliced fresh strawberries
2 tbsp  strawberry jam
Instructions
Preheat oven to 350°F.

In a medium bowl, whisk flour, baking powder and salt until combined.

Add the sugar, oil, eggs, egg whites, and vanilla extract and mix well with a beater. Add the sour cream and half of the flour.While still beating, slowly add milk, then the remaining flour mixture.

Grease a 9×13 baking pan. Pour the batter into the pan and spread into an even layer.

Bake for 25-30 minutes, until a toothpick inserted into the center comes out clean.
FROSTING
Place the cream cheese, powdered sugar, and vanilla extract in a large mixing bowl. Using a hand mixer beat the mixture until smooth. While the mixer is still running, slowly pour the heavy cream down the side of the bowl. Increase the speed to high and continue whipping until the cream can hold a stiff peak.

Spread the frosting onto the cooled cake. If you are serving right away, stir the strawberries with jam and spoon over the top of the cake. If you are not serving right away, place the frosted cake in the refrigerator and wait to add the strawberries until right before serving.
---