Heavenly Berries and Cream Crepes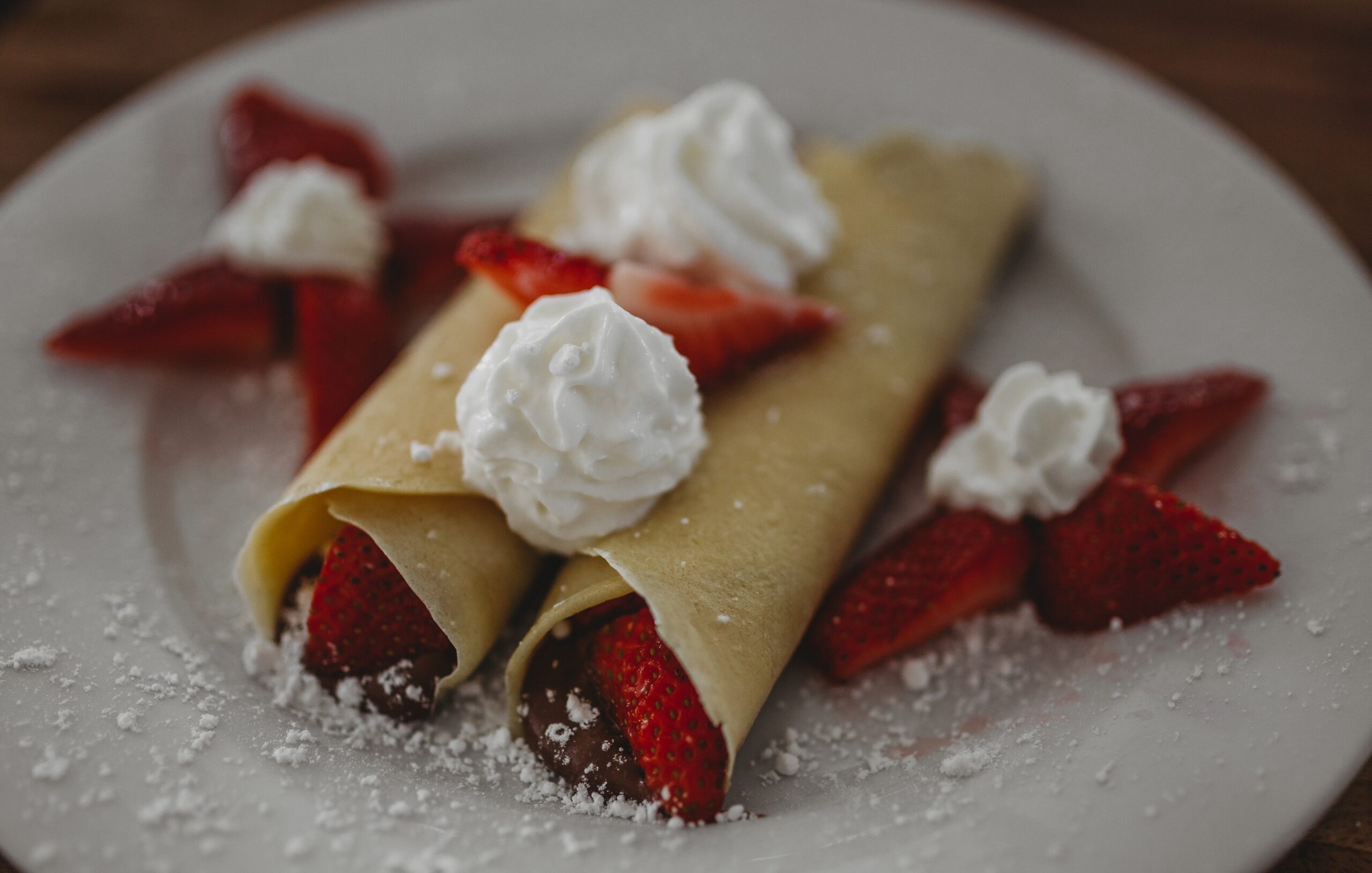 I have been freezing lots of fresh berries this summer, and recently I went to a church orchard where I was able to glean lots of peaches.
This is the time of year when fruit is pretty cheap and you can cook with them in so many ways. A recipe we love for breakfast is Heavenly Berries and Cream Crepes. They literally melt in your mouth.
A Crepe is a French-style pancake that is thin and flat, and can be made and filled with sweet or savory ingredients.
To make savory crepes (do not add the sugar and vanilla) fill them with eggs and ham and cheese or make them into
Chicken Street Crepes
by using a rotisserie chicken, or
Turkey, Mushroom and
Swiss Cheese Crepes.
Crepes are DELICIOUS whatever filling you use.
You will need the following ingredients to make crepes…
Eggs…large
Milk….I use 1% milk but you can use 2% or half and half.
Butter…..unsalted butter because you are adding salt
Sugar…..you can always use more sugar if you like them sweeter.
Vanilla…you always need to double the recipe for better flavor.
Salt…not much.
Flour….I use all-purpose.
Ingredients
1 1/2 cups milk
2 tbsp unsalted butter
3/4 tsp vanilla extract (double this for more amazing flavor)
3 eggs
1 cup flour
2 tsp granulated sugar
1/4 tsp kosher sea salt
Topping Ingredients
2 cups mixed berries (fresh or frozen)
3 tbsp granulated sugar
3 tbsp water
2 tsp lemon juice
Filling
1 cup heavy cream
2 tbsp powdered sugar
1/2 tsp vanilla extract
Instructions
In the jar of a blender, add the milk, melted butter, vanilla, eggs, flour, sugar, and salt. Blend on low until well combined, then refrigerate for at least 30 minutes.

In a small saucepan set over medium heat, combine the berries, sugar, water and lemon juice. Let this simmer while the crepes are cooking. 

Place a 10-inch non-stick skillet over medium heat. Stir the batter, then butter the pan.

Pour ¼ cup of the batter into pan, and swirl in circular motion to evenly coat the bottom of the pan with batter.

Cook until golden brown on bottom, about 2-3 minutes. Flip the crepe and and cook for another 1-2 minutes. Transfer to a wire rack and allow to cool.

Time to prepare the whipped cream. In a large mixing bowl using a hand mixer whip the cream, powdered sugar and vanilla until stiff peaks form.

Roll or fold the crepes and fill with whipped cream. Top with berry sauce and powdered sugar, if desired.

You can freeze what you do not use and then just microwave for 20-30 seconds and then fill them with the fruit mixture.
---