Breakfast Tacos…Tex-Mex Classic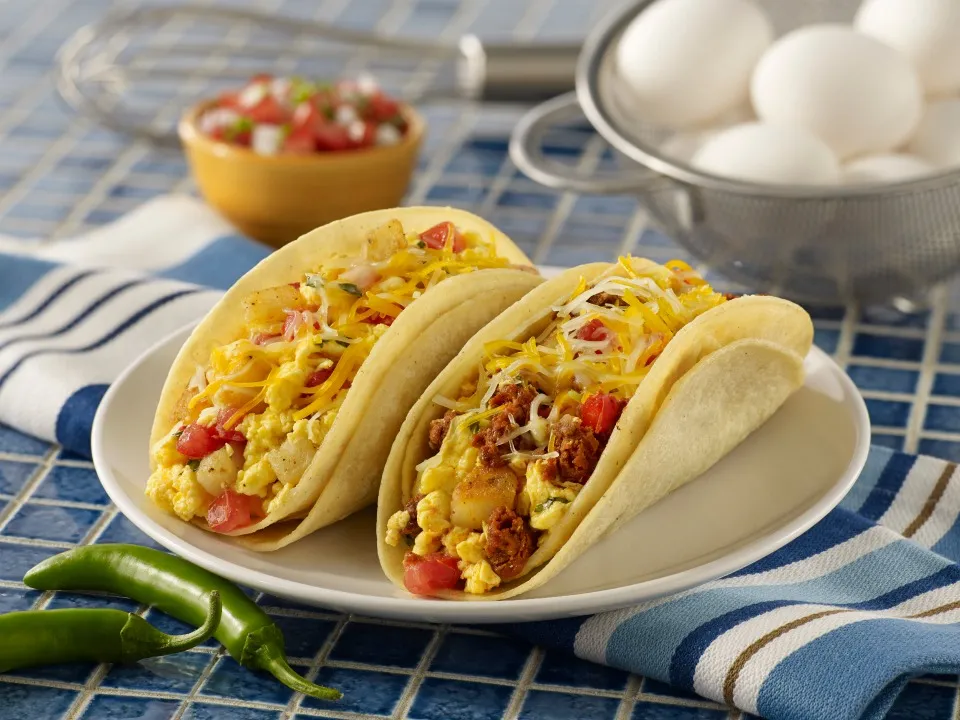 I remember the days at our farm when life was so crazy raising our family. We had a 10 acre farm with 2200 Asian Pear Trees that kept us very busy. I always made sure the kids did not start the day unless they had a good breakfast. When I found these Breakfast Tacos..they were a big hit with the kids. They are so quick to make and when you have a houseful of children, since we did foster care too, along with our own kids you need that.Breakfast tacos are the perfect grab-and-go weekday breakfast. Just add some fruit and everyone is ready to go.Start your families day off with hearty Delicious Breakfast Tacos, they will request this Tex-Mex Classic often.
Ingredients
8 slices bacon, chopped into 1 – 1/2 inch pieces. You could substitute the bacon for sausage.
1 1/2 cups frozen breakfast diced potatoes (thawed) 
1/2 tsp paprika
salt and pepper to taste
1 tbsp butter
8 eggs…I always use large.
Dash of hot sauce if you want.
1/2 cup shredded cheese….use cheddar, Monterrey Jack, or any other cheese you like.
8 taco-sized flour tortillas warmed.
Instructions
Heat a large nonstick skillet over medium high heat. Add the bacon and cook stirring often until browned and crisp. Drain bacon on a plate lined with paper towels.

Remove all but 1 tablespoon of the bacon drippings from the skillet. Add the potatoes and 1 tablespoon of bacon drippings and cook until the potatoes are tender. Season with salt and pepper to taste.

In a medium bowl, beat the eggs Wipe out your skillet and melt the butter over medium-low heat. Add the eggs and cook and scramble eggs until set. Stir in cheese and remove from the heat.

To assemble the tacos, layer the tortillas with the potatoes, scrambled eggs and bacon. Top with any additional toppings. Serve warm. ENJOY!
---