Breakfast Pancakes and Sausage On a Stick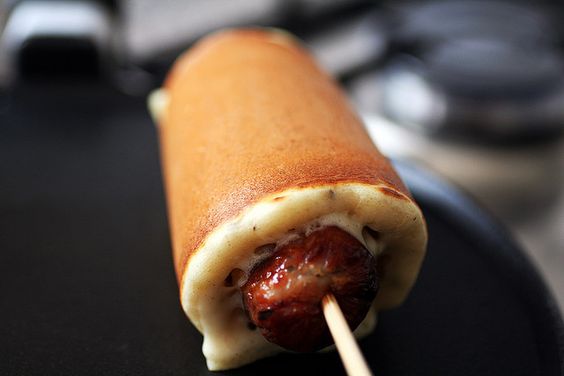 We love these dippers! I use to serve them at work the easy way from a box. But I will never do that again! Homemade is always better! This recipe is easy and your family will love these on the breakfast menu at your house.These Breakfast Sausage Pancake Dippers are made with delicious a homemade pancake batter and make the perfect kid-friendly breakfast finger food!If you are a fan of pancakes and breakfast sausages, you will love these.All purpose flourBaking powderSugarSaltMilkEggButterVanilla extractMaple syrupBreakfast sausage linksCanola oilSmall wooden skewersWhip up these pancakes on a stick for breakfast, or even a snack option. You can use ANY pancake mix, the batter just needs to be THICK.Let's Make Some…..
Equipment
8 bamboo skewers, cut cleanly in half.
Ingredients
14  breakfast sausage links
1 cup  all purpose flour
2 tbsp  sugar
2 tsp  baking powder
1/4 tsp  salt
3/4 cup  milk
1 egg  slightly beaten
2 tbsp  butter, slightly melted
2 tsp  vanilla extract
1 tbsp  maple syrup, plus more for dipping
5 cups canola oil, for deep frying
Instructions
In a large skillet, cook sausage links until done. Remove and place on plate lined with paper towels. Set aside.

In a bowl, whisk flour, sugar, baking powder and salt together until combined.

In a small bowl, add milk, egg, vanilla, and slightly melted butter. Mix until well combined.

Pour the wet ingredients into the dry mixture and stir until combined (batter will be slightly lumpy).

Add maple syrup and stir to combine.

Preheat oil in a medium-size saucepan over medium high heat.

Pour pancake batter into a tall cup.

When sausages are cool enough to handle, place 2 tablespoons flour in a shallow dish. Skewer each sausage lengthwise with a wooden stick, dredge in flour, and tap to remove excess.Then one-by-one dip them into the pancake batter to coat.

Carefully place the pancake batter coated sausage links into the hot oil and cook until the batter is golden brown in color (45 seconds to one minute).

Remove from oil and let cool for a minute or two before serving.ENJOY!!!
---