Huevos Rancheros Breakfast Bowl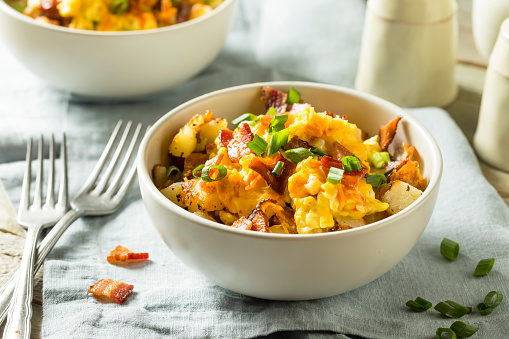 I LOVE huevos rancheros and these Easy Breakfast Burrito Bowls are the perfect way to start the day!What Is A Burrito Bowl? Burrito bowls are the insides of a burrito. They usually have chicken or beef with rice, beans, cheese, and salsa.INGREDIENTS YOU'LL NEEDDiced potatoes..we love russet or red potatoes with the skins on. Diced bell peppers…any color works fine in this recipe.Diced onionOlive oil….canola works too.Breakfast sausage linksPinto beans….Eggs, milk and salt….use these ingredients to make scrambled eggs.I had never I had never heard of this seasoning recipe before but it is going to had a little zip to these Breakfast Burrito Bowls. I found a recipe for you to make instead of buying it. Homemade Slap Ya Mama Seasoning….Not too spicy and full of flavor, everyone will love how it enhances their food!2 tsp Onion Powder.2 tsp Garlic Powder.1 tbsp Paprika.1 tsp Ground Cayenne Pepper.1 tsp Dried Oregano.1 tsp Dried Thyme.Pepper Jack Cheese¼ tsp Red Chili Flakes adjust the amount to your liking.1 tbsp Salt.These Breakfast Burritos Bowls are easy to make and your family will love them. Enjoy!
Ingredients
1 tbsp  olive oil
1 diced onion
2 diced green bell pepper
1 diced red pepper
8.3 ounce sliced breakfast sausage links
1 1/2

cups

drained pinto beans
10 large eggs
1/2 tsp  pepper
1/4 tsp  salt
1 tbsp  milk
3 slices pepper jack cheese
3/4 tsp  Slap Ya Mama Seasoning
Instructions
In a large skillet, heat oil and add vegetables, stirring frequently.

Add sausage and Slap Ya Mama Spice. Cook until vegetables are tender and sausage is browned on both sides

In a separate pan, spray with cooking spray and add eggs, milk, salt, and pepper. Cook until eggs are fluffy

Add pepper jack cheese to eggs and stir until cheese is melted

Place eggs and pinto beans into sausage and vegetables mixture. Stir until fully combined

ENJOY!!!!
---