Just Like Grandma Use To Make….Homemade Apple Butter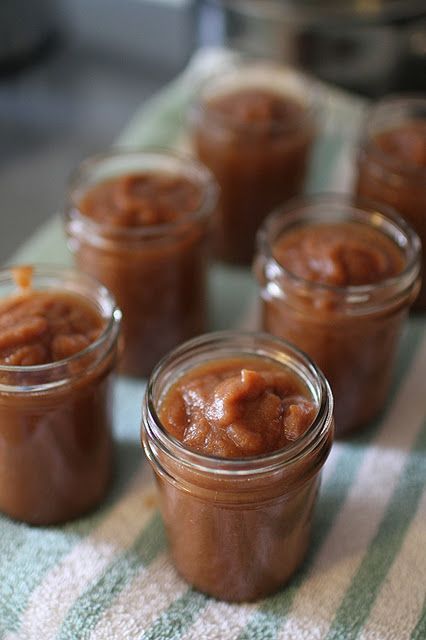 I have been wondering what to do with some apples I have left from my last picking at the orchard. Then I found this Homemade Apple Butter Recipe and it is SUPER EASY and delicious!!
Apple Butter will make your entire house smell like Autumn. Your family is going to love this recipe and and they will be begging for more so make a big batch.
If you have never tasted apple butter you just have too!!
WHY IS IT CALLED APPLE BUTTER?
They call it "apple butter" because it has a buttery consistency, even though no butter is actually added.
I love that this recipe can be made on the stovetop or in a slow cooker.
What kind of apples should you use? When we go to the orchard they have so many different kinds of apples we bring home a few of each. So we mix a few different varieties together when we make apple butter! Just so you know the sweeter the apples you use, the sweeter your apple butter will be.
Ingredients
Apples….Something like gala, honeycrisp, or golden delicious.
Spices.….Cinnamon, Pumpkin Pie Spice or Apple Pie Spice
Sugar….brown sugar
What is the difference between applesauce and apple butter?
Apple butter is typically sweeter, richer, and thicker. It's often much darker in color than applesauce, because of the added ingredients (like brown sugar, cinnamon, etc) and the caramelization that occurs from the longer cook time.
TIPS & TRICKS TO MAKE APPLE BUTTER
Use any apples you like here.
Don't skimp on the cook time! Your apple butter will be smoother when it cooks longer.
The type of blender you use makes a big difference in how smooth your apple butter will get.
How to Use Apple Butter
Apple butter can be used anywhere you'd use jam or jelly. It's wonderful on toast, delicious in oatmeal, and you will love it swirled into plain yogurt.
Keep Unopened jars of apple butter in your pantry, but once you crack open the jar, it should be stored in the fridge.
Next time you find yourself with lots of apples, remember this easy homemade apple butter recipe!
Click here for the FREE apple butter printable labels. (From Little Spoon Farm)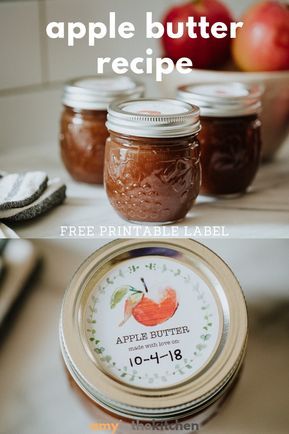 This is a great recipe for the holidays! Perfect for a neighbor, hair stylist, hostess gift, or your children's teachers.
See below for the full recipe.
Ingredients
5 medium cooking apples, peeled, quartered, cored and sliced
1 1/4 cups water (you could use substitute and use apple juice or apple cider.)
1/2 cup brown sugar
1/4 tsp cinnamon
1 tsp pumpkin pie spice or apple pie spice.
Instructions
Prepare apples. Heat apples and water over medium heat. When the mixture starts to boil reduce heat and simmer for about ten minutes until tender.

Stir in brown sugar and cinnamon. Heat to boiling and stir until apples are soft. Use an immersion blender to puree the fruit or puree in a blender until completely smooth.

The apple butter is sufficiently cooked when the apple butter holds its shape on an inverted (upside-down) spoon.Cool apple butter and place in mason jar and store in the refrigerator.
---