Halloween Chocolate Peanut Butter Bars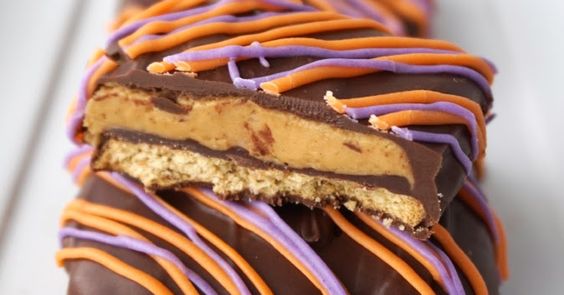 I don't know about you but when the weather starts to get cooler it is time to start baking in your kitchen and make something amazing.
I have had this recipe for years. These No-Bake Peanut Butter Bars are an easy treat that's fun to make for Halloween.
These Halloween Chocolate Peanut Butter Squares are so full of peanut buttery goodness, layered with graham crackers and topped with mouth-watering chocolate. Last, it's drizzled with the colors of Halloween which makes it perfect for all those get togethers.
You probably do not even need to run to the store – you likely have everything you need to make this super easy no-bake chocolate peanut butter bar recipe at home right now!
No bake chocolate peanut butter bars are a simple combination of chocolate, peanut butter, crushed grahams and confectioners sugar. To make them you will just need a bowl and a spoon.
It will remind you of the Reese's Peanut Butter Cup but so much better because it is homemade. This recipe is so easy to make for a Halloween Party or a delicious treat to share with neighbors, people at work, and of course family.
HERE ARE THE INGREDIENTS YOU WILL NEED…
Unsalted Butter
Creamy Peanut Butter
Graham Cracker Crumbs
Powdered Sugar
Chocolate Chips
Vanilla
Orange and Purple or Green Melting Wafers
Make sure you bring these to your Halloween Party….friends and family will love you for it!
Ingredients
6 graham cracker sheets, broken in half
2 cups milk chocolate chips
2 cups semi-sweet chocolate chips
2 tsps coconut oil or shortening
1 cup creamy peanut butter
1 1/2 cups powdered sugar
2 tsps vanilla
orange, green and purple melting wafers
Instructions
Break graham crackers in half and set aside.

Place 1 cup milk chocolate chips and 1 cup semi-sweet chocolate chips with 1 teaspoon of coconut oil in a microwave-safe bowl and melt for one minute. Stir and microwave in 30 second increments, stirring in between until the chocolate is melted.

Dip the cracker halves into the chocolate, and gently tap to remove any access chocolate. Then lay the crackers onto a baking sheet lined with parchment paper.

Place the baking sheet in the fridge for 10 minutes or until the chocolate has hardened.

Add peanut butter, powdered sugar and vanilla into a mixing bowl and stir until all combined.

Use a medium cookie scoop to add a 2" ball of peanut butter mixture on top of each cracker.

Spread the peanut butter mixture evenly over the crackers to the edges. Place in the refrigerator for at least 5-10 minutes.

Melt the other 2 cups of chocolate chips with coconut oil in the microwave.

Dip the peanut butter chocolate-covered crackers into the melted chocolate and gently lift out with a fork. Let the excess chocolate drip off and set it back down on the lined baking sheet. Place the peanut butter squares into the fridge for the chocolate to set for at least 10 minutes.

Melt some orange, green and purple melting wafers (separately) in the microwave according to package directions. Pour into a small baggie and cut off the corner. Drizzle some of each color over the top of the peanut butter squares for a fun Halloween look.
---