Scones With Honey Butter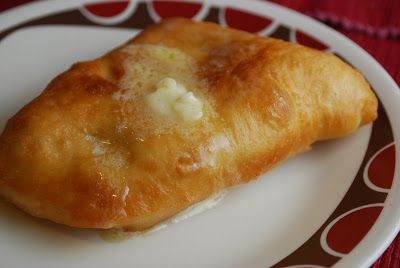 It would not be Halloween without a batch or two of scones. Boy do these go fast. Make sure you have lots of honey butter to pass around the table. They go so well with Chili or a Meal in a Pumpkin. So today let me share this recipe with you.
These scones are so delicious.They are crunchy on the outside and warm and tender on the inside.
These scones remind me of warm elephant ears at the fair. I waited every year for this treat. I loved the melted butter and cinnamon sugar on them. I love how food brings up good memories from the past.
You can also use this dough to make these scones sweet or add toppings for Navajo Tacos. (we love those) You can also have them for breakfast. Any way you eat them I am sure you will love them.
RECIPE INGREDIENTS…..
Milk
Water
Butter
Salt
All-purpose flour
Yeast
Sugar
Vegetable oil
These are so easy to make, and turn out delicious every time! You will never go back to store bought dough again.
Growing up there was a restaurant called Me & Stan's in Rexburg, Idaho. His restaurant is not there anymore but I will always remember how delicious his scones were and his Honey Butter was out of this world. (Do Not Lose This Recipe!!)
ME & STAN'S HONEY BUTTER
Ingredients
1/2 lb Butter Room Temperature
1/2 lb Margarine Room Temperature
7 oz Marshmallow Creme
1/4 cup Water
1/4 cup Sugar
3/4 cup Honey
Mix water and sugar in a small saucepan and bring to a boil. As soon as the sugar is dissolved, remove from heat. Set aside to cool.
In a large bowl with a hand mixer, whip butter and margarine until they start to become a fluffy. Then add in the honey, marshmallow cream, and the simple syrup.
Keep whipping it until it's all mixed together well and has formed a creamy, whipped consistency.
Refrigerate 1-2 hours or until ready to use.
OTHER TOPPINGS TO USE…..
powdered sugar
cinnamon and sugar
jam
nutella
A delicious scone dripping with melted butter and honey cannot be beat. I hope you and your family will love them.
Scroll below and let's make some……
Ingredients
1 cup warm water
1 cup warm milk
1 tbsp dry active yeast
3 tbsp granulated sugar
1/4 cup cooled, melted butter
1 tbsp salt
5-6 cups bread flour
Vegetable oil for deep frying
Instructions
In a large bowl combine warm water and warm milk.  Stir in the sugar.  Add dry active yeast and stir lightly.  Allow yeast to activate, about 10 minutes. 

Add milk mixture and melted cooled butter and the salt.

Then add the flour one cup at a time until the dough pulls away from the sides of the bowl.   Cover the dough in the bowl with a towel.  Set in a warm place and allow raise until double.

Pour your oil in a large pan and heat oil to between 350 – 400 degrees.While the oil is heating, roll the dough out onto the counter, without flour, into a large rectangle about 1/2 inch thick. Using a pizza cutter, cut into squares or triangles.

Cook scones until golden brown and serve right away.
---