Moist and Delicious Pumpkin Scones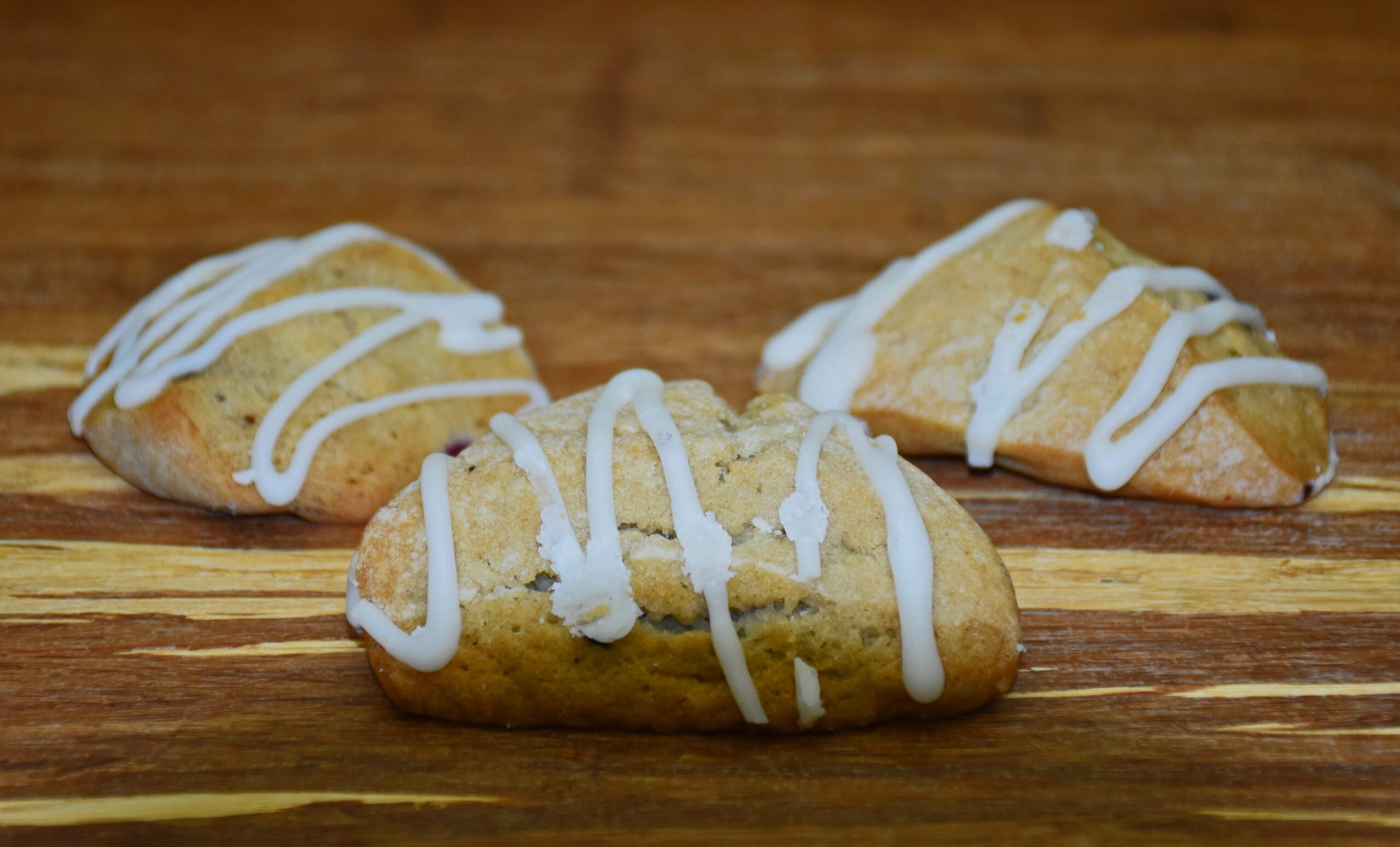 Tis the season for pumpkin and these Pumpkin Scones are the perfect addition to any fall day.
Just follow this Basic Scone Recipe, you can have freshly baked scones in less than 20 minutes!
WHO INVENTED THE SCONES???
Scones are traditionally Irish, Scottish, and English foods. However, nobody knows which of these countries invented the baked food. As far as history can trace back, Scones probably originate from Scotland. Yes, the first print reference dates back to 1513 and is from a Scottish poet.
INGREDIENTS…..
Flour
Baking Powder
Salt
Canned Pumpkin
Brown Sugar
Cloves
Butter
Milk
Powdered Sugar
Vanilla
Seriously, these Pumpkin Scones are Soooo good. ♡
Favorite Spreads to Use on Pumpkin Scones
These delicious scones are perfect as is, especially with a sweet drizzle on top. If you do not like a glaze you could try the following….
Honey butter
Apple butter
How about just butter!
SOME TIPS ON HOW TO MAKE PUMPKIN SCONES….
To get super-soft scones, you have to keep the dough cold. Cold dough will hold its shape during baking and the scones will come out so moist on the inside.
The cold butter will melt during baking and release steam which creates little pockets of air inside the scone. That is how they turn out so fluffy.
It's also important not to overwork the dough. You need to knead it but not too much. You do not want to warm those ingredients that are so important to keep cold.
HOW TO STORE SCONES….
They are best enjoyed the same day but you can keep them stored in an airtight container for up to 2 days. (They will not last that long) Either in the fridge or at room temperature.
Delicious Pumpkin Scones are great for every occasion and are so easy to make! These are perfect for your family or for when company happens to drop by.
Grab your apron and lets get baking…..
Ingredients
2 1/2 cups  all-purpose flour
1/4 cup packed brown sugar
1 tbsp baking powder
1/2 – 2 tsp ground cinnamon
1/2 tsp  salt
1/2 tsp  ground cloves
1/2 cup butter
3/4 cup  canned pumpkin
1/2 cup  milk
VANILLA GLAZE
1/2 cup  powdered sugar
1/2 tsp  vanilla extract
1-2 tbsp  hot water
Instructions
Preheat oven to 425ºLine a baking sheet with parchment paper.

In a bowl combine flour, brown sugar, baking powder, cinnamon, salt and cloves.

Cut in butter with a pastry blender (I just use a fork) until mixture is crumbly.

Add pumpkin and milk to flour mixture. Mix just until dough forms.

Knead dough gently on floured surface 10 to 12 times. Pat dough into one 8-inch circle; cut into fourths. Cut each quarter into thirds, to make 12 wedges.

Place wedges 2 inches apart on un-greased baking sheet.

Bake for 14-16 minutes, or until they're lightly golden.

Remove scones to a cooling rack; cool slightly.

Drizzle with vanilla glaze & sprinkled with a bit of pumpkin pie spice.
---