Spooky Halloween Oreo Balls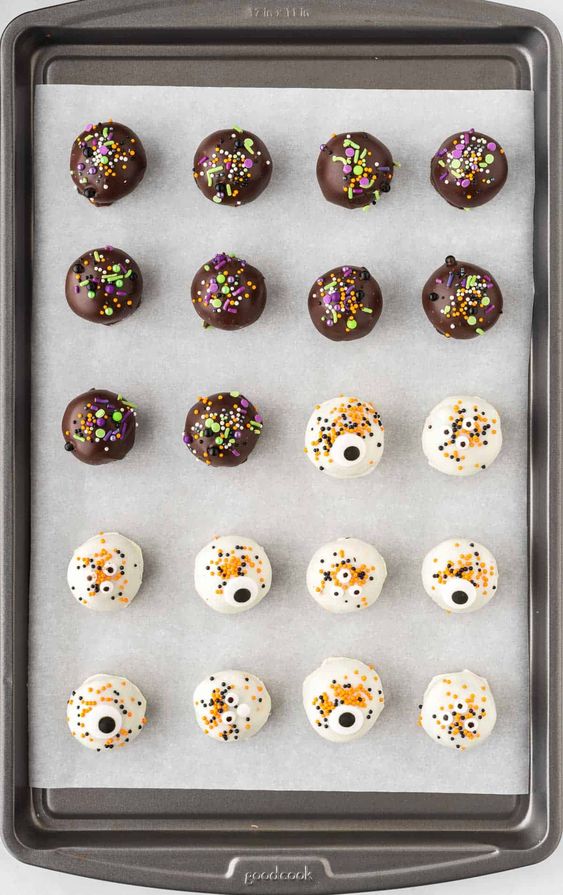 Halloween is almost here again and let me share this recipe for Spooky Halloween OREO BALLS! AN easy recipe that only needs 3 ingredients!!!!!
Let your kids make these for Halloween gifts and pass them out to neighbors and family.
All you will need is 1 package of Oreo cookies, 1- 8 oz package of cream cheese, and some chocolate to dip the Oreo balls in. How EASY is that?
WHY WILL YOU LOVE THESE HALLOWEEN OREO BALLS?????
You only need 3 ingredients to make this mouth-watering dessert.
Great for a family activity and they are so fun for the holidays.
You do not need a oven!!!! I love No Bake Desserts, don't you?
Decorate them with eyes and Halloween sprinkles.
Ingredients to make these Oreo Balls
Oreo's…..just regular not the double-stuffed ones
Cream Cheese
Vanilla
Dark chocolate melting wafers
White vanilla melting wafers
Halloween colored sprinkles
Candy eye balls…you can find them on Amazon.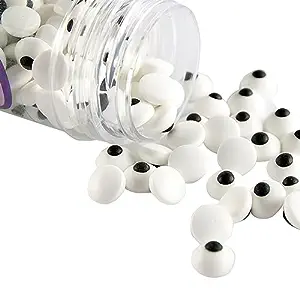 Red decorating gel….for the bloodshot eyes look.
Use your blender to grind up the Oreo Cookies into fine crumbs. Or put these Oreo's into a plastic zipped-top bag and crush them with your rolling pin. (Use the whole cookie, filling and all)
A LITTLE TIP FOR YOU……If you prefer to use chocolate chips (and/or white chocolate chips) instead of the melting chocolate for the chocolate coating, just add 1 teaspoon of shortening per cup of chips when melting.
These are HIGHLY DELICIOUS….You cannot stop eating them.
Go grab your apron and let's get cooking!
Ingredients
36 Oreos
8 oz softened cream cheese
Ghiradelli Dark chocolate melting wafers
Ghiradelli White vanilla melting wafers
Halloween sprinkles and eye ball candies
Chocolate or White Chocolate Chips (Optional)
2 tsp Vanilla
Instructions
Line a baking sheet with wax paper. Set aside. 

Add the Oreos to a your food processor and process into crumbs.

Add the cream cheese to the food processor or a blender and pulse until combined and the mixture comes together.

Roll 36, 1 inch sized balls. Place on the prepared baking sheet. Freeze the Oreo balls for 10-15 minutes. 

Chill the Oreo balls for 30 minutes in the fridge or freezer

Remove the Oreo balls and dip them in the chocolate. Immediately after dipping the balls place them back on the wax paper and sprinkle the tops with your selected sprinkles. 

Chill in the fridge until firm, then transfer to an airtight container and store in the fridge until ready to eat
---