Gooey Caramel Apple Dump Cake Recipe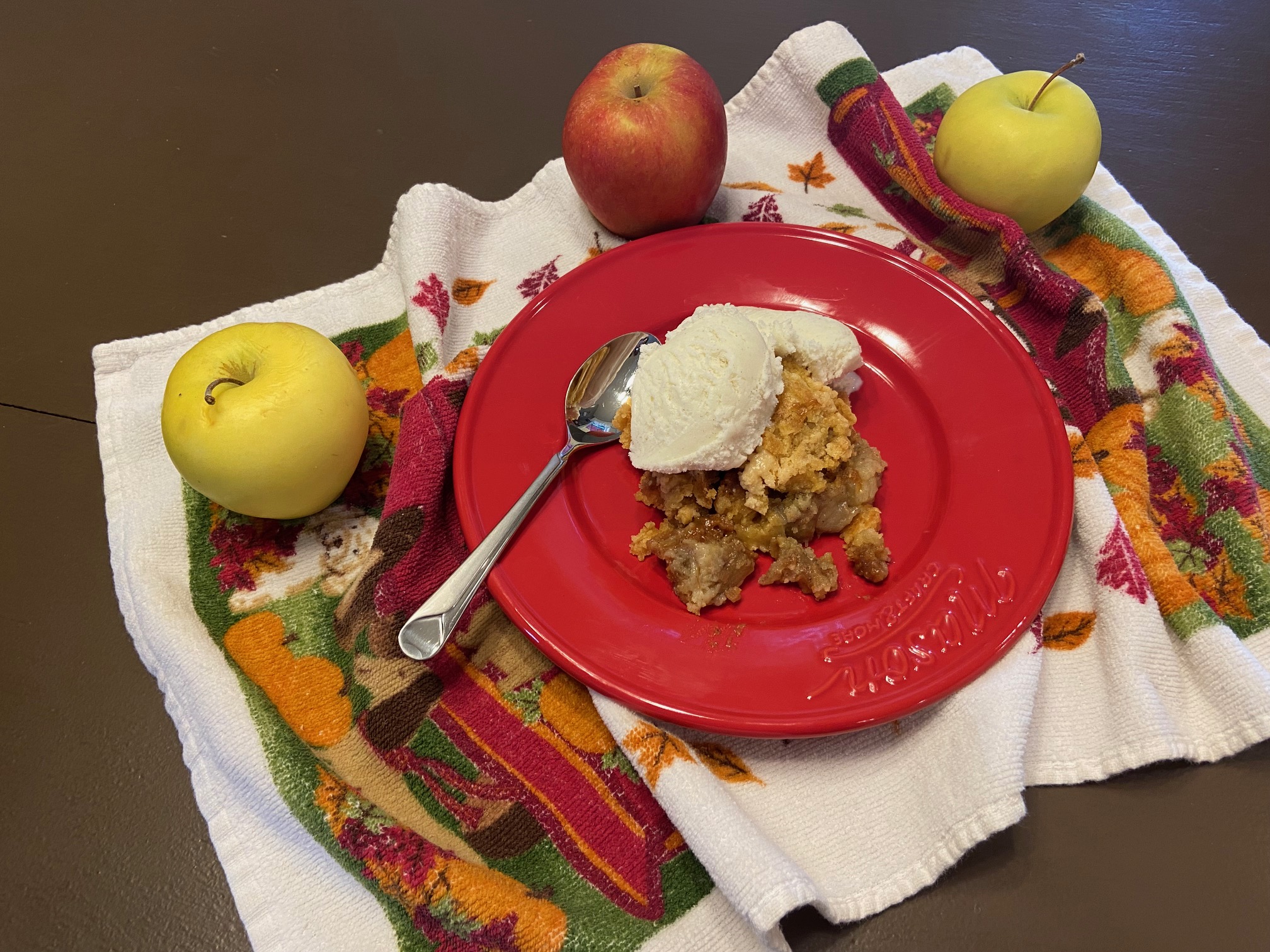 Fall can be a very busy time at our house. We are busy getting some canning done and drying lots of fruit. The apple season at the orchard is coming to an end. Did you take your family apple picking this year? Among all my apple recipes (and I have many) you just have to try this Caramel Apple Dump Cake I found a few years ago!
It will become a favorite fall dessert with either fresh or canned apples, ( we use canned) caramel, and a yellow cake mix.
WHAT IS A DUMP CAKE YOU ASK….
A dump cake just simply means a cake that you dump the ingredients in the pan and bake it!
This caramel apple dump cake is just like that, you simply layer everything together in a casserole dish and pop it into the oven.
It is so easy and you won't believe how DELICIOUS the final cake is!
INGREDIENTS…..
Canned apple pie filling
Allspice
Cinnamon
Werther's Original Chewy Caramels
Super moist butter yellow cake mix
Salted butter
Vanilla ice cream
SUBSTITUTIONS AND ADDITIONS…..
Mix-Up The Cake Mix….. Feel free to change the cake flavor in your Caramel Apple Dump Cake. We used a yellow cake mix. But you can make it with a white cake mix, or a spice cake mix.
Tasty Toppings…. Top your cake with a few drizzles of caramel sauce, and a scoop of vanilla ice cream or a dollop of whipped cream.
Add a little salt to the caramel for a SALTED CARAMEL APPLE DUMP CAKE.
How to Make Caramel Apple Dump Cake
Preheat oven to 350 degrees and spray a 13×9 pan.
Add apple pie filling, caramel, and then sprinkle cinnamon and allspice over the apples.
ADD CAKE MIX…..Sprinkle cake mix on top of filling. Drizzle melted butter on top.
BAKE…… Bake until golden brown. Store in refrigerator.
(Full printable recipe card is at bottom of post.)
This apple dessert tastes delicious and is so easy to make.
Scroll down and lets get baking…..
Ingredients
2  20-ounce cans apple pie filling
1/4 tsp  allspice
1/4 tsp  cinnamon
1/2 10.8 ounce bag Werther's Original Chewy Caramels cut in half
1 box  super moist butter yellow cake mix
3/4 cup butter (1½ sticks, cut into 15 squares)
Vanilla ice cream for serving (optional)
Instructions
Preheat the oven to 350 degrees. Spray a 9×13 baking dish with cooking spray.

Dump both cans of apple pie filling into the baking dish. Sprinkle allspice and cinnamon over apples. Stir to mix.

Cut ½ of the bag of caramels in half. Sprinkle them over the top of the apples.

Top with DRY cake mix.

Evenly add cold butter pieces to the top of the cake

Place in the oven and let bake uncovered for 45 minutes. Rotate pan half way through cooking.
---