Ice Cream Drumsticks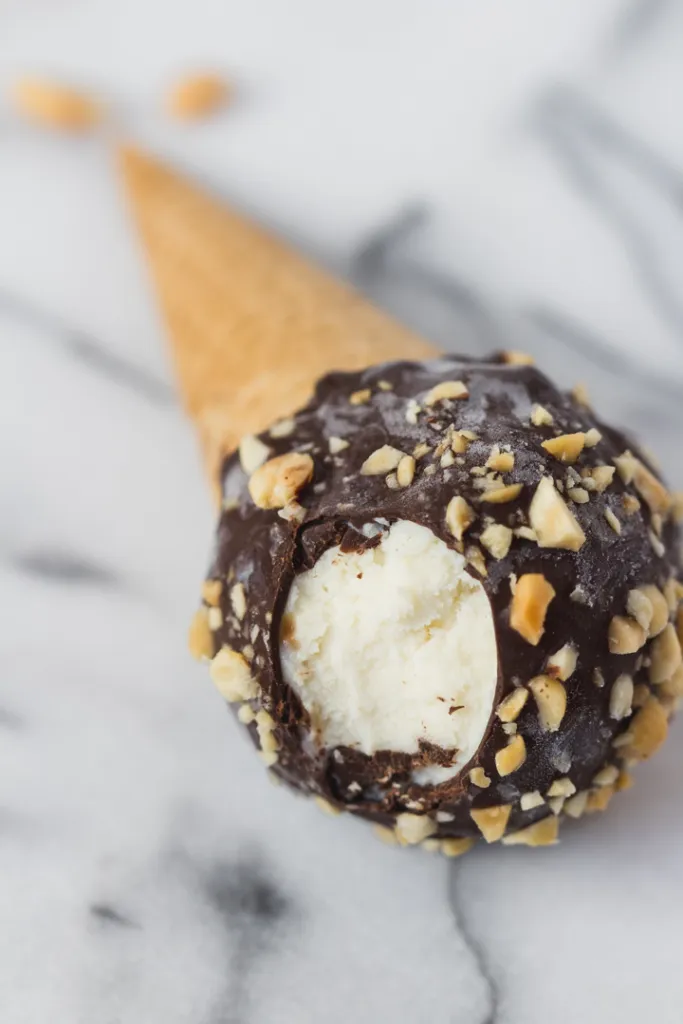 You do not have to buy Ice Cream Drumsticks at the store any more! Head on over to your kitchen and let me show you how to make them at home.
Nothing more satisfying than a Homemade Ice Cream Drumstick on a hot summer day.
According to Nestle, one of the women making chocolates in I.C. Parker's Ft. Worth, Texas candy factory in 1928 accidentally dropped an ice cream cone into a vat of melted chocolate. She pulled it out of the chocolate and dropped it onto a counter covered in peanuts just as Parker showed up and saw the mess. He tasted the sloppy creation and liked it so much that he decided to make it his new top-selling product: the Drumstick.
I still have no idea if Parker replaced that worker with someone who wasn't clumsy and didn't leave peanuts all over the place. But I do know that it was his wife Jewel who came up with the odd name for the new ice cream creation when she joked that it resembled a chicken leg.
Parker's new product was a great success for many years, and the company was growing when Nestle came knocking and bought The Drumstick Company in 1991. Today the Drumstick is iconic, with 34 different variations of the famous frozen confection. (Thanks The Food Hacker for telling us how these drumsticks were started.)
INGREDIENTS YOU WILL NEED…..
8 sugar cones
Some glasses or jars (to help the cones stand up)
Ice cream — Use your favorite flavor or multiple flavors
Semi sweet chocolate chips
Chopped peanuts,
Chocolate Chips…..put 2 chocolate chips in the bottom of each cone. This acts like a chocolate plug that prevents ice cream from leaking while you eat it.
Fill the ice cream cones with ice cream, being sure to shape the top scoop to make a perfect dome around the cone. 
Place the prepared ice cream cones in the glasses or jars and place in the freezer for 30-60 minutes or until frozen solid.
A LITTLE TIP FOR EVERYONE…Add ½ tablespoon of coconut oil to your chocolate before you melt it. This makes the chocolate set up immediately on your ice cream (sort of like Magic Shell.) 
Scroll below for the entire recipe.
Then let your family enjoy this delicious treat.
Ingredients
6 sugar ice cream cones
48 ounces  ice cream any variety you like
16 ounces chopped semi-sweet chocolate or chocolate chips with 1/4 cup coconut oil
1/2 cup  chopped peanuts (optional)
Instructions
Line a cookie sheet with parchment paper,

Place two chocolate chips into the bottom of each cone.

Stuff each ice cream cone with 8 ounces of ice cream. Freeze until firm.

Heat chocolate chips and coconut oil in a microwave-safe bowl on medium-high for about 1 minute. Remove from the microwave and stir. Repeat at intervals of 30 seconds, stirring in between, until the chocolate is completely melted and has a smooth consistency.

Remove the ice cream cones from the freezer and spoon the melted chocolate over the ice cream. Sprinkle with chopped peanuts.

Place back on lined sheet and freeze for another 30 minutes.

Serve after chocolate has set or you can freeze these drumstick cones in an airtight freezer-safe container for up to 1 week.
---