Semi-Homemade Peach Cobbler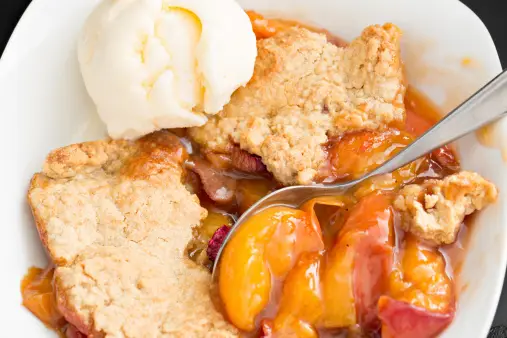 Only 2 Ingredients
I love this time of year when the peaches and pears and apples are ready at the orchard!! I make freezer jam, dry a bunch, and slice some to freeze for pies, cobblers, and smoothies. Today I will be sharing this simple recipe for Delicious Peach Cobbler using fresh or canned peaches with a sugar cookie dough top. A no fail, scrumptious, summer delight using ONLY 2 ingredients!Did you know peach cobbler is hundreds of years old? Not only is it tasty, but it has a rich history as well. American settlers invented peach cobbler because they didn't have the proper ingredients and tools to make peach pie.The earliest known cobbler recipe was published in 1839 in Lettice Bryant's The Kentucky Housewife.INGREDIENTS YOU NEED TO MAKE THIS COBBLER….Peaches…fresh or canned (It takes 1 1/2 medium fresh peaches to equal 1 cup of sliced peaches, or you can substitute with 2 (16-ounce) cans of peaches if you are using canned peaches.)Sugar cookie dough…. (16.5 ounces) Vanilla Ice CreamPeach cobbler is a yummy addition to any meal. Take this delightful dessert to Picnics, Family BBQ'S and Sunday Family Dinners. Everyone will be raving about it for days!! Fresh peaches in the summertime are always the best but canned works well, too. With fresh or canned peaches, this dessert is a wonderful, flavorful treat for any time of yearJust prepare your fruit for your baking dish then dollop your topping on your peaches and pop in the oven. This fruit cobbler tastes amazing with a scoop of ice cream!HAPPY BAKING!! 🙂
Ingredients
2 cups fresh sliced peaches ( 3 fresh or 2 (16 ounce) cans of sliced peaches in natural juice, drained)
1 roll (16.5 ounces) sugar cookie dough
Instructions
Heat the oven to 350 F.

 Pour the drained or fresh peaches into a greased 9-by-13 casserole dish.

Break the cookie dough into pieces about 1 inch square.

Drop them all over the peaches in an even layer.

Bake 30 to 35 minutes, until browned and bubbly on top.

ENJOY!!
---