Old-Fashioned Peach Pie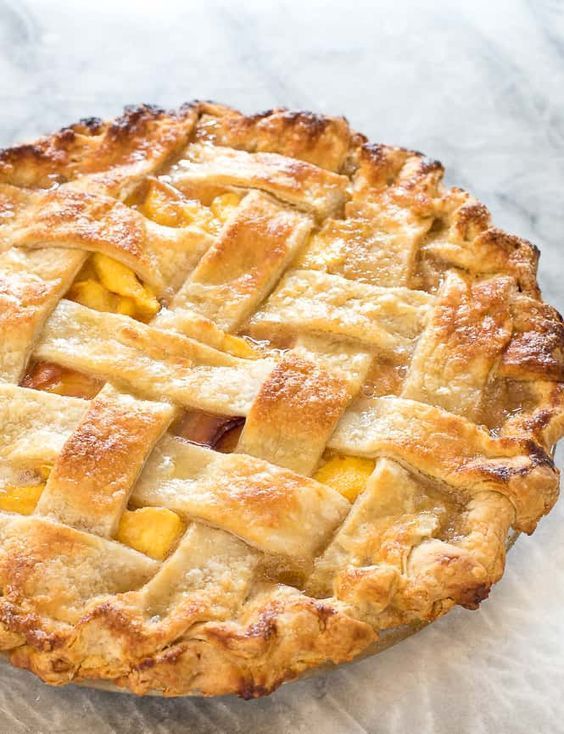 Does homemade pie crust sound intimidating? It was for me when I wanted to make my first pie and it was a disaster!! My mother and grandmother were both good pie makers. I remember when my mother was baking a pie she always had extra crust left over and she let me roll it out and sprinkle cinnamon and sugar on and bake in the oven. I still do that today.I love this time of year. It will finally start to cool down and we have had a very hot summer! Peaches are starting to come on and I have so many yummy recipes to share like this delicious Peach Pie that our family loves. Just the smell alone makes my mouth water! If you haven't tried fresh peach pie, you are missing out. Every bite is truly a taste of summer.I remember when I was cooking we had to make pies for 300 people. WOW that was an adventure. We made everything from scratch and they turned out good! We had many compliments on how flaky the crust was and how delicious these pies were. My grandmother would have been so proud!Impress your friends and family this year and make homemade pies and pie crust, completely from scratch!This is such a simple, scrumptious pie recipe and it makes the Best Peach Pie you will ever taste!INGREDIENTS NEEDED….Pie Crust SugarBrown sugarSaltWaterAll Purpose Flour  ButterLemon juice…..Drain your peaches well after you mix them with lemon juice and vanilla. This will help make your pie not soggy.VanillaCinnamon and NutmegLemon juiceFreestone Peaches…these are the best peaches to use for cooking and baking. To make a perfect peach pie make sure your peaches are ripe and juicy.Have you ever wondered why you dot any fruit pie with butter? I always heard growing up it was to prevent the pie filling from boiling over. I think anytime you do this it makes it taste even better. It adds a richness to the fruit pie.Another tip I have learned is to sprinkle your peach pie with cinnamon sugar, on the top before baking. We have always made our own and let me share a quick recipe….(Put 1/2 cup sugar and 1 tablespoon cinnamon in a bowl and mix together. Then get a cute bottle and pour the mixture into it.) When I get ready to freeze these peach pies I make them in pie pans, cover them with saran wrap and foil and place them in an airtight container for up to 4 months. Go grab your ingredients, and let's get baking!
Ingredients
2 pie crust dough
5 cups fresh peaches, sliced
3/4 cup sugar
1/2 cup all-purpose flour
1/2 tsp ground cinnamon
2 tbsp diced butter
1/2 tbsp lemon juice
1 tsp vanilla
3/4 cup sugar
1/4 cup brown sugar
1/4 tsp nutmeg
1/4 tsp salt
1 tsp water
cinnamon sugar
Instructions
Preheat oven to 425.

Peel and slice your peaches into about 1/2" in slices and add to a bowl. Add in lemon juice and vanilla and stir. Put into a colander and drain.

In another bowl add your flour, sugar, brown sugar, salt, cinnamon and nutmeg and stir with fork until combined. Add your peaches back to a bowl and sprinkle your dry ingredients over top and stir to combine.

Put one of your crusts in a standard pie plate

Pour your peach mixture into bottom of pie crust and spread over evenly then dot with butter pieces over the top.

Layer your other pie crust on top and crimp edges to seal. With a paring knife put about 8 slits in the center of your pie crust for venting and sprinkle with cinnamon sugar.

Bake in oven for 10 minutes then reduce your temperature to 350 and continue baking for about 30-35 minutes longer until crust is golden.

Top with a scoop of vanilla ice cream for the ultimate Summer dessert!
---