Scrumptious Strawberry Cream Pie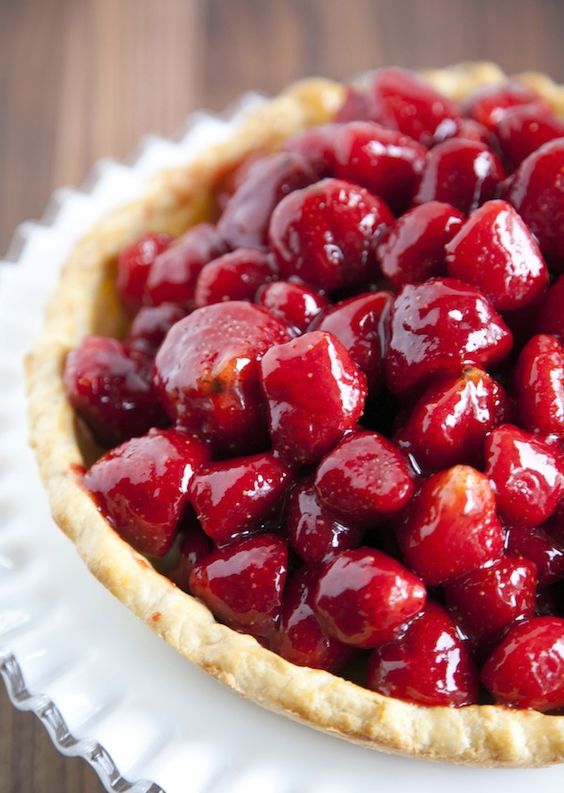 I have lots of strawberries planted in my garden. This year I planted another 20 plants. They must be ever bearing because they are still producing strawberries and it is September. I make freezer strawberry jam and put lots in my freezer for smoothies. The first picking goes to making this recipe for Strawberry Cream Pie.
If you're looking for a pie to WOW your family and friends, this Scrumptious Strawberry Cream Pie will do it!
 Do you LOVE pie! After you taste this Strawberry Cream Pie you will want a second piece!! The best part is it's so easy to make with just a few ingredients.
Top it off with swirls of homemade whipped cream, and you have the best Strawberry Cream Pie ever!
I promise you this pie won't last long, so make you better make two!
The fresh strawberry flavor just pops – if you've never made this pie before you are in for a real treat!
HOW DID STRAWBERRY PIE COME TO BE….
The origins of strawberry pie are not quite clear, but this recipe was all the rage in the 60s, and it's reminiscent of Shoney's legendary strawberry dessert.
INGREDIENTS…..
All you need is just 5 simple ingredients to make this easy strawberry pie dessert.
Pie Crust
Strawberries
Glaze
Cool Whip

SO HOW MANY STRAWBERRIES DO YOU NEED FOR A PIE??
About 3/4 of a pound or 2 cups is called a pint. A quart of berries is probably about 2 pounds (or around 2 pints)
Many strawberry pie recipes call for the filling to be made with strawberry Jello. This strawberry pie is made with a homemade glaze thickened with cornstarch. It's the best way for the flavor of fresh strawberries to shine.
HOW TO KEEP YOUR STRAWBERRY PIE CRUST FROM GETTING SOGGY?
Bake your pie crust and let it cool. Use a pastry brush and brush a layer of melted chocolate on the bottom of your pie crust.
Then refrigerate the pie crust for 5-10 minutes before filling with your strawberry pie filling.
Make this delightful taste of summer Strawberry Cream Pie! It will become a favorite!
Scroll below and let me show you how to make this delicious pie…..
Ingredients
1 8-inch  plain baked pastry shell or Homemade Pie Crust (store-bought, homemade, or graham cracker crust)
1 lb.  strawberries divided
3 tbsp  cornstarch 
1 cup  granulated sugar
8 oz. container cool whip 
reserved strawberries for garnish
Instructions
Wash and slice strawberries.

Reserve half of the berries; place them in baked pie shell.

Mash remaining berries, bring to boiling over low to medium heat.

Mix granulated sugar and cornstarch thoroughly so no lumps remain.

Add sugar mixture to strawberries in saucepan.

Cook slowly over low to low-medium heat for 10-12 minutes or so, until mixture thickens.

Cook slowly and stir continuously so the mixture doesn't scorch or stick to the bottom of the saucepan.

Remove from heat.Cool.Pour over uncooked berries placed in cooked pie shell.

Refrigerate until cold, several hours or overnight.

Top with Cool Whip.
---