White Chocolate Popcorn Recipe For Christmas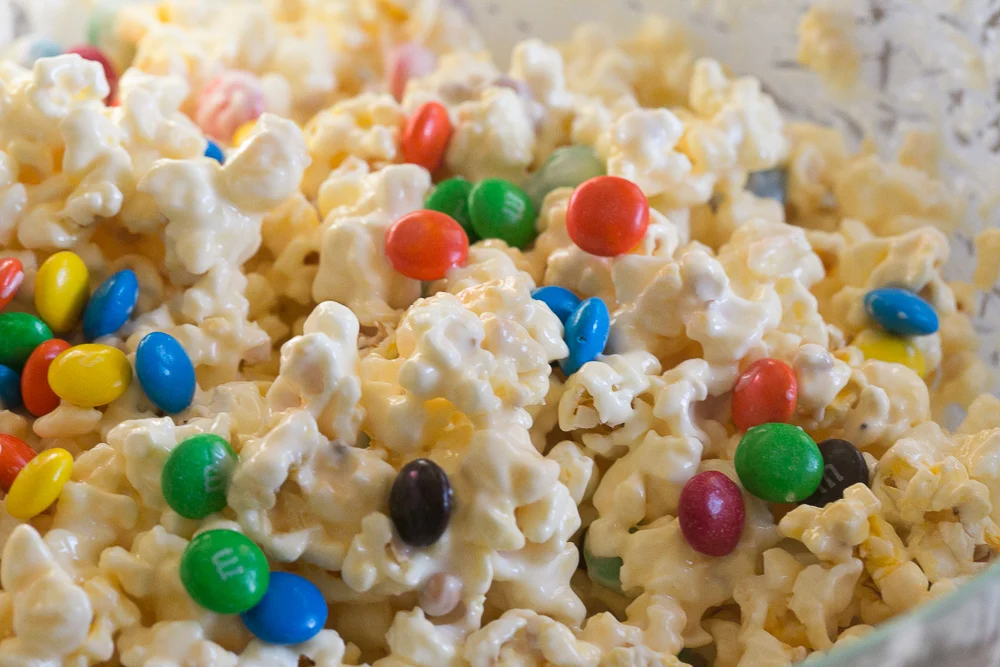 Today I am sharing a recipe that will have your family wanting more! It is also a great idea for a last minute Christmas Gift. This sweet and salty White Chocolate Popcorn recipe is made using white chocolate. You are going to love how fun and easy it is. No matter what the holiday is, or a movie night, or just because you want some, you have to try this.
White Chocolate Popcorn is Delicious.
You will need the following Ingredients….
Popcorn….you need 1 cup of unpopped popcorn or two bags of microwave popcorn.
White Chocolate….white chocolate chips work great. 
Pretzels….any shape you want.
Peanuts….we love salted peanuts. If you prefer another kind of nut that is fine too.
Chocolate Candy… we use M & M's.
Marshmallows.… mini marshmallows.
Head into your kitchen and let's make
this mouthwatering snack mix? You will not be able to stop eating it! YUM!!
Ingredients
INGREDIENTS
5 cups  popped popcorn
1-2 cups mini pretzels
1 cup M&Ms
12 oz.  white chocolate chips
1 tbsp.  shortening or coconut oil
Instructions
INSTRUCTIONS
Cover a cookie sheet with waxed or parchment paper and spread the popcorn.

Drop the pretzels evenly over the popcorn.

Sprinkle the M&Ms next.

Microwave the white chocolate chips and shortening in a bowl for about 1 minute. Stir, then microwave in 20 second intervals, stirring well each time, until the chocolate is completely melted.

Drizzle half the chocolate over the popcorn mixture.

Gently stir the popcorn a bit, spread again, and drizzle the remaining white chocolate.

Serve immediately for a deliciously warm snack. Or let it sit out for about an hour to dry. (It's less messy when the chocolate cools.)
---