Easy Homemade Ranch Dressing Recipe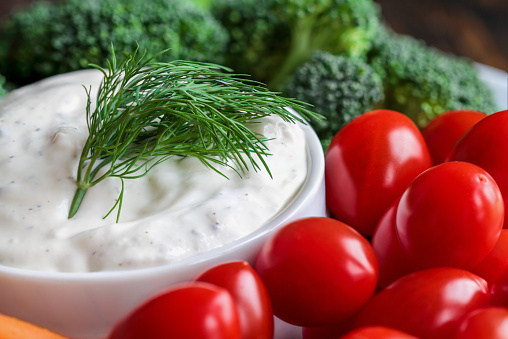 Have you ever made ranch salad dressing from scratch? If you have not…. now is the time to give it a try. Toss out that bottle in your refrigerator in the trash you will not need it again.
It doesn't take a lot of time to make and you can eat it with your favorite salad, fresh veggies, chicken fingers, pork chops baked potatoes, pretty much everything!
YOU WILL NEED THE FOLLOWING INGREDIENTS FOR HOMEMADE RANCH
SEASONING…
Mayonnaise
Sour Cream
Parsley
Dill
Dried Chives (or ½ teaspoon finely chopped fresh chives)
Garlic Powder
Salt and Pepper
Lemon
Juice
Black Pepper
Worchestershire Sauce
Keep some on hand in a mason jar all the time. This will become your favorite go to recipe for Ranch Dressing!
A FEW RANCH DRESSING VARIATIONS YOU MIGHT LIKE….
Bacon Ranch….Add in bacon crumbles.
Cheesy Ranch….Add in parmesan, or cheddar cheese.
Light Ranch…. Swap the mayo for light mayo and the sour cream for nonfat plain Greek yogurt.
Avocado Ranch…Add an avocado and process in a food processor.
Grab Your Whisk and let's make some…..
Ingredients
INGREDIENTS
1 cup mayonnaise (choose a good quality like Best Foods.)
1/2 cup sour cream or Greek yogurt
1 tbsp finely chopped parsley
1-2 cloves minced garlic
1/4 tsp  dill dried (or 3 tablespoons chopped fresh parsley)
1 tsp Worchestershire sauce
1 tbsp lemon juice
salt and pepper (about 1/4 teaspoon each)
Instructions
INSTRUCTIONS
Add all ingredients to a jar and shake vigorously.

Dressing can be used immediately or you can refrigerate it for a few hours for it to have a thicker consistency. 
---