Frog Eye Salad…Old-Fashioned Recipe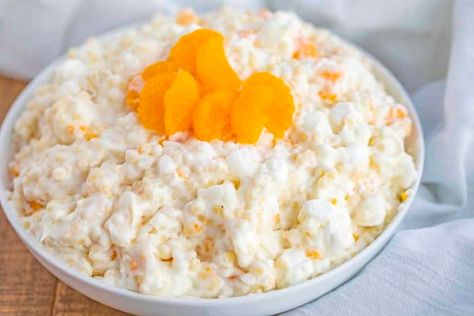 Today I share a favorite family recipe that is a summertime treat. Have you heard of Frog Eye Salad? A favorite for any gathering pass this recipe down to your family and friends. I remember when I was working and I put this on the menu. Every one would come into the kitchen and wanted to know what it was. They wanted seconds after trying it. 🙂Frog Eye Salad, is a creamy salad that has tender pasta, pineapples, mandarin oranges, and coconut mixed with a sweet and creamy sauce.To make this cold pasta salad you will need a box of Acini Di Pepe pasta, a tiny bead like pasta. You can find it at most grocery stores in the pasta aisle.This Frog Eye Salad recipe is perfect for serving at BBQs.FROG EYE SALAD INGREDIENTS….White sugarFlourSaltPineapple JuiceEggsLemon juiceOilAcini Di Pepe pasta.Canned mandarin orangesCanned pineapple chunks.canned crushed pineapple.cool whip.mini marshmallows.Sweetened shredded coconut.This is a classic recipe and a total crowd-pleaser. This is one of those salads that was very popular in the 60s and 70s. Food and memories. They really do go hand and hand. 
Ingredients
1 cup sugar
2 tbsp flour
1 3/4 cup  pineapple juice
2 eggs beaten
1 tbsp lemon juice
1 tbsp oil
1 pound  box Acini Di Pepe pasta
3 8 ounce  cans mandarin oranges
2 20 ounce cans pineapple chunks
1 20 ounce  can crushed pineapple
8 ounces cool whip
1 cup mini marshmallows
1 cup sweetened shredded coconut
Instructions
In a pot over medium heat add sugar, flour, salt, pineapple juice, and eggs.

Stir until thickened and add the lemon juice.

Remove from heat and cool to room temperature.

While the mix is cooling cook the Acini Di Pepe pasta according to package direction and drain. Rinse with cold water to cool pasta.

Combine the egg mixture and the pasta and the fridge for 1 hour.

Once the egg and pasta mixture is done cooling, In a large bowl add the mandarin oranges, pineapple chunks, crushed pineapple, cool whip, marshmallows, and shredded coconut and gently mix well till all combined.

Combine the fruit and marshmallow mixture with the pasta mixture.

Put in the fridge till cold.
---