Delicious Taco Salad Recipe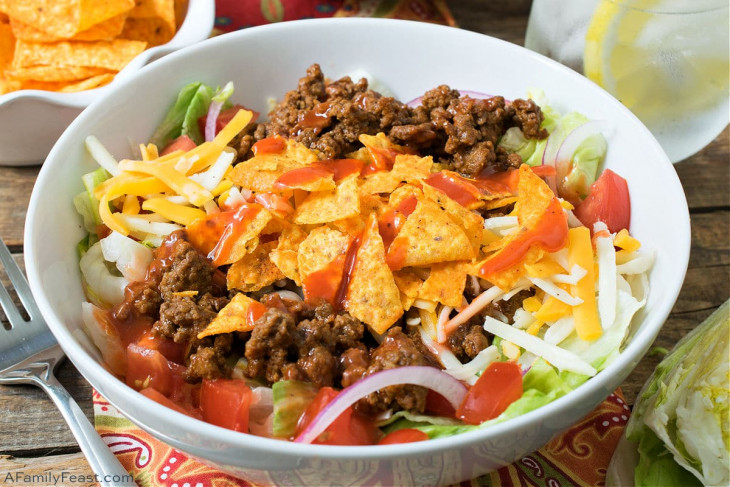 If you are like me I look for easy recipes in the summer that do not require cooking on the stove for very long or in the oven.  Today I am sharing a very easy delicious recipe for Taco Salad. This meal is going to be a hit with everyone in your family.
This salad comes together in only 30 minutes. It is a super easy meal to make. It is so  kid-friendly, and great for picky eaters!
A Taco Salad is a Tex-Mex dish that combines ingredients used in Tex-Mex tacos. The dish originated in Texas during the 1960s.
Change up your Taco Tuesday with this
Delicious Taco Salad.
I do not know about your family but Tacos are always a big hit in our house.
Add this Taco Salad into your meal rotation every week. Once you make this Taco Salad your family will want it often.
INGREDIENTS YOU WILL NEED…
Ground
Beef
Taco
Seasoning
Iceberg
Lettuce
Cheese
Red
Onion
Kidney or Black Beans
Tomatoes
Water
Doritos
Catalina Dressing…..You could also use
Ranch, French or any other dressing you'd love.
TRY ADDING ONE OF THESE SIDE DISHES TO SERVE WITH THIS TACO SALAD…..
Mexican rice
Corn on the cob
Black beans or Kidney beans
Salsa,
Guacamole,
QuesadillasCornbread
Doritos
Say goodbye to bottled Catalina and hello to HOMEMADE CATALINA SALAD DRESSING…via
GET ON MY PLATE
your family will love.
1/2 cup ketchup
3 tbsp honey
1/3 cup red wine vinegar 
1 tsp smoked paprika What
1 tsp garlic powder
2 tsp Worcestershire
1/2 tsp black pepper
1/3 cup olive oil or vegetable oil
Add all ingredients to a medium sized jar and shake until combined.
My family loves it! I bet it will become your family's favorite taco salads, too!
Ingredients
2 pounds of ground beef
2 cups per salad Chopped Iceberg, Romaine, or Boston lettuce,
1 cup  shredded yellow cheddar cheese
1 cup  shredded Monterey Jack cheese
1 cup diced tomatoes
Catalina Dressing
1 bag Doritos (we love Nacho Cheese)
1  packet taco seasoning
1 red onion
Instructions
In a large skillet, cook meat, breaking it up with a spatula. Cook until no longer pink. Add Taco seasoning, stir and cook for 1 minute. Add water, stir and simmer for 2 minutes.

Fill a serving bowl or individual bowls with lettuce of choice. Top with warm taco flavored beef, onion, shredded cheeses, and diced tomato, Then top each salad with Catalina Dressing.

Top each salad with Homemade Catalina Dress and top with crushed Doritos and serve immediately.Catalina Dressing picture from Insanely Good Recipes.
---