Peppermint Milk Shake..a Favorite Holiday Treat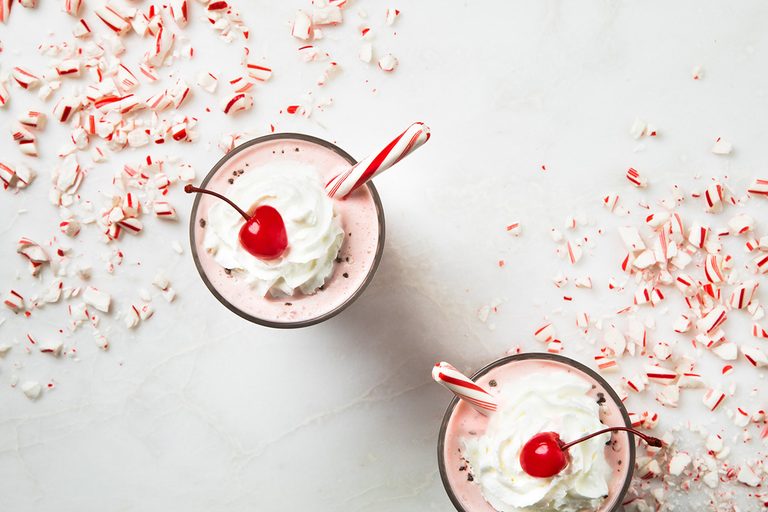 Christmas is almost here and I am almost ready. After all the hustle and bustle of the season it is time to sit down put my feet up and enjoy a
Scumptious Homemade Peppermint Milkshake.
Chick-Fil-A makes a seasonal Peppermint Milkshake every year that is so delicious. But this homemade recipe is much cheaper with this simple recipe. It will become a NEW favorite holiday treat.
You will need the following ingredients to enjoy this treat year-round….
Semi-sweet chocolate baking bar …. shave the chocolate with a cheese grater.
Peppermint candy canes….the little pieces of peppermint candy are what make this shake taste like Christmas.
Milk..for a richer taste use whole milk. You could also use heavy cream combined with a nonfat milk.
Peppermint extract…make sure you get the right kind PEPPERMINT.
Vanilla ice cream…use a a high quality ice cream.
This Peppermint Milk Shake will be loved by all!
Here are some other Milkshake Recipes to try.
Easy Melting Snowman Milkshake
S'Mores Milkshake
Eggnog Milkshake
Let me show you how to make this amazing Chick-fil-A peppermint milkshake at home with this copycat recipe. Your family will ask for this refreshing treat every Christmas.
Ingredients
1 1/2 quart  vanilla ice cream
1 1/2 tsp.  peppermint extract
1/3 cup whole milk
1/2 tsp.  vanilla
1 cup  crushed peppermint candy
1/4 cup semi sweet chocolate shaved (from a semi-sweet chocolate baking bar)
2 drops (red food coloring (optional)
Whipped cream for garnish plus a maraschino cherry on the top.
Instructions
INSTRUCTIONS
In a blender, finely crush your peppermint candy or candy canes. In a small bowl grate your dark chocolate, then set aside.

In your blender add ice cream, milk, and peppermint, blend until well combined. Add food coloring if you are adding it.

Add in your crushed peppermints and dark chocolate, continue to blend until everything is mixed up.

Pour into your favorite glass, and put a dollop of whipped cream on the top and add a maraschino cherry . ENOY!!
---