Mouthwatering KFC Chicken Mashed Potato Bowl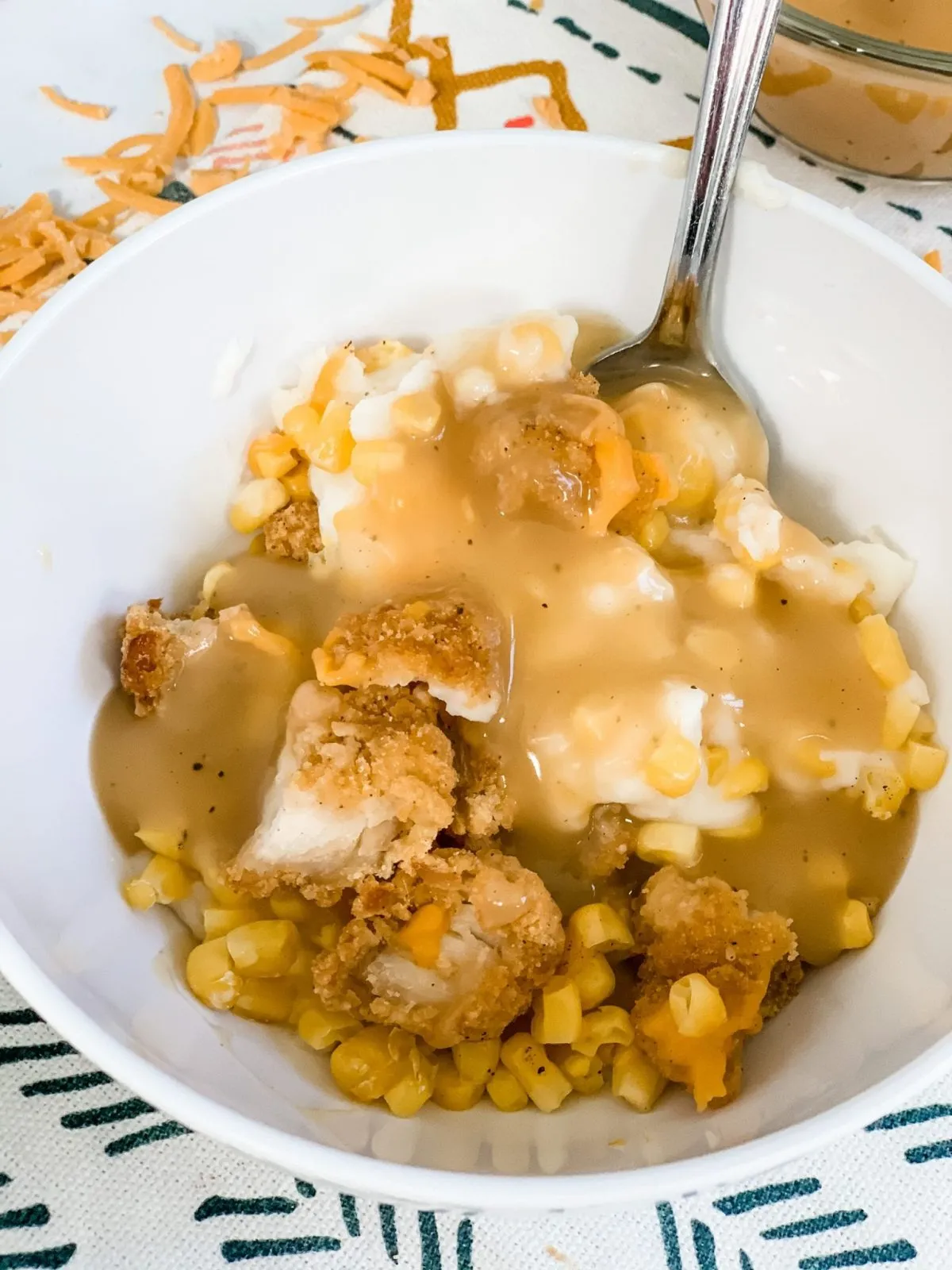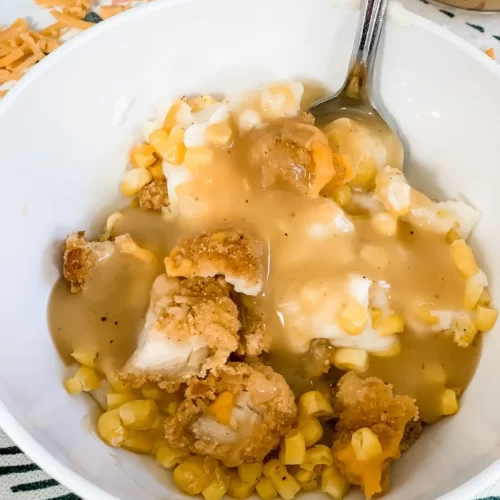 KFC Chicken Bowl
School is back in session in our state so that means fall must be right around the corner. I love fall and all the comfort food that goes with this season. The KFC Mashed Potato Chicken Bowl is a delicious easy family meal. I have to say it is just as good as KFC makes. With only 5 ingredients it's a quick and easy dinner recipe Colonel Sanders describes it perfectly…… "Creamy mashed potatoes, sweet corn and bite-sized chunks of crispy chicken are layered together then drizzled with home-style gravy and topped with a perfect blend of shredded cheese." It is DELICIOUS!!You will need the following ingredients to make this Mouthwatering KFC Mashed Potato Chicken Bowl…Popcorn Chicken…..we use chicken nuggets in ours. Mashed Potatoes..homemade is always the best. But if you chose to make the instant ones that works too. Brown or Chicken Gravy…..once again homemade is better, but you can use premade. Frozen Corn…. or from a can. If you are using the canned make sure you drain the liquid. Shredded Cheddar Cheese…..we use cheddar but you can use whatever your family likes.The first time I made this I had leftover mashed potatoes and chicken gravy which I heated in the microwave. I also heated up some chicken nuggets for 15 minutes in the oven to use.This recipe should make 6 bowls.So gather your ingredients and lets get started!
Ingredients
6 servings of mashed potatoes
1 24 ounce pkg. chicken nuggets
1 15 ounce can of corn
1 pkg. chicken gravy (can use beef gravy)
2 cups shredded cheese
Instructions
Preheat your oven to 400 degrees Fahrenheit. Cook the chicken nuggets according to the package usually about 15 minutes.

Add your potatoes to a pot of boiling water. Add a little salt to the water. In a large bowl whip the potatoes, with some butter, and a little bit of salt and milk. (You can use instant potatoes, but homemade is so much better.)

Heat up the corn on the stove or in your microwave.

If you are using bottled gravy you can also heat it up in the microwave or on the stove. (Homemade is really the best. But you can use 2 packets of the gravy mix like McCormick.)

Then start layering potatoes, corn, chicken, and gravy in bowls . Sprinkle the top with shredded cheese. Dig In you are going to love this meal!!
---