Beef Ramen Noodle Stir Fry..Way Better Than Take Out!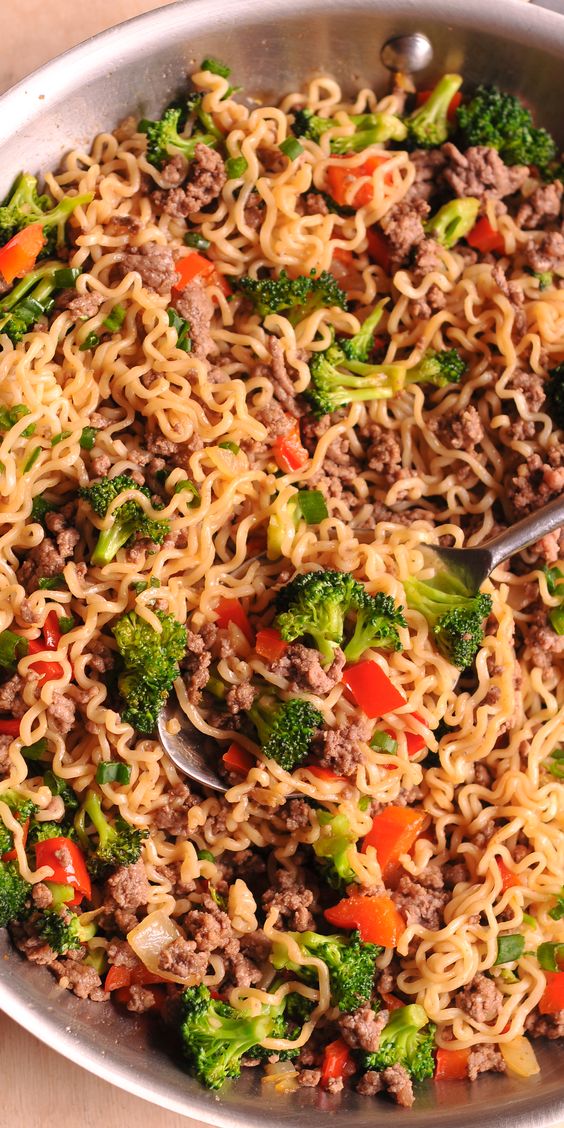 I cooked a lot of Ramen Noodles for my family as they grew up. Now I keep some on hand for my grandkids who love them. Beef Ramen Stir Fry is a delicious way to turn a plain package of ramen noodles into a mouth-watering dinner everyone will love.Yes we have all heard that Ramen Noodles are not good for you but when you throw away the salt laden package of seasonings they suddenly get healthier for you.So tasty even kids love it. This recipe is so easy you will be making it over and over again.Let's get to the recipe….
Ingredients
1 lb ground beef (extra lean)
1/2 red bell pepper chopped)
3 heaping tablespoons creamy peanut butter
3 tbsp hoisin sauce
1/2 tbsp sriracha sauce
1 tbsp soy sauce
1 tsp grated fresh ginger
2 cloves minced garlic
3 pkgs ramen noodles, seasoning packets discarded, (if you are gluten free you can use rice noodles or soba noodles.)
salt and pepper to taste
Scallions chopped (optional)
We like more veggies in our stir fry so we add sliced carrots, mushrooms, onion, and broccoli florets.
Instructions
Add the beef to a skillet over medium-high heat and cook, stirring occasionally, until browned (about 8 minutes).
Meanwhile, boil a pot of water for the ramen noodles.
Take the skillet off the heat and stir in the sauce ingredients (peanut butter, hoisin sauce, sriracha sauce, soy sauce, ginger, and garlic).

Return the skillet to the heat and add the veggies, continue cooking stirring often about 5-7 minutes.

The noodles only take about 3 minutes to cook, so I recommend adding the noodles to the boiling water just as you add the red pepper into the skillet.

Once the noodles are done, add 4 tablespoons (or so) of the cooking water into the skillet prior to draining them. Drain the noodles and add them to the skillet.

Toss well and season with extra salt & pepper if needed. Top with scallions and sesame seeds if desired and serve.
---