Lazy Ravioli Lasagna In a Crockpot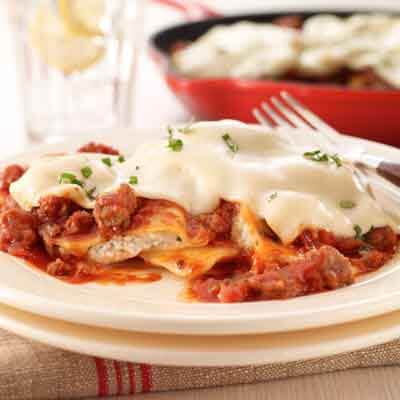 As a mom and grandma I am always looking for quick and easy nutritious meals to make. I remember running from one school to the other to pick up kids after sports, piano, or dance or a church event. Before you know it is time to figure out what to make for dinner.That is why I like fast and delicious, hearty meals that my family will love. This recipe for Lazy Ravioli Lasagna is so easy and quick to put together. You can pretty much call it a lazy person's lasagna!Gather the following food items for this recipe…..Jar of pasta sauce Frozen ravioli…..there are many different kinds to choose fromShredded mozzarella cheeseShredded Parmesan cheeseJust add a green salad and some garlic bread and dinner is served!
Ingredients
1 bag  44 ounces/2 pounds 12 ounces) Frozen cheese ravioli. Try the spinach and cheese filled or the sausage and cheese filled ravioli too. Delicious!!
2 jars 24 ounces each) marinara sauce!
4 cups shredded mozzarella cheese
1/2 cup shredded Parmesan cheese
Instructions
Spray slow cooker with nonstick spray. Pour half of the marinara sauce in the bottom of your crock pot.

Put half of the ravioli over the marinara sauce. If you are adding hamburger or sausage put half over the ravioli and top with 2 cups of mozzarella cheese.

Repeat for one more layer with the frozen ravioli, sauce and ending with the rest of the cheese.

Cook on low for 3-4 hours. Let it set for at least 10 minutes before you serve.
---