DELISH Chicken Alfredo Tortellini Soup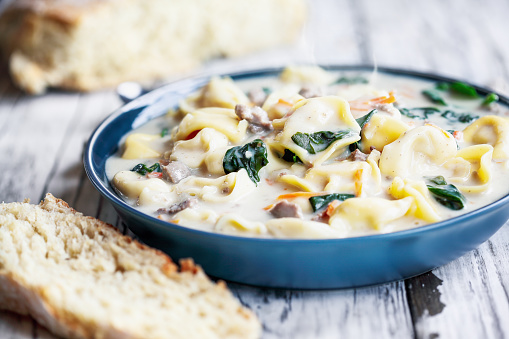 I am not a fan of cold winter days and we are SO COLD where we live right now!!! That is when it is time to bring out the soup recipes and warm your family right up.My sister and her husband came for the weekend and brought this Chicken Alfredo Tortellini Soup Recipe which I am excited to add to my blog. I remember the days of coming home from school and my mother had a big pot that sat down in the stove. It was filled with short ribs and so many vegetables for a soup she had been cooking all day. It was so filling on winter days. She always had hot homemade bread and Raisin Filled Cookies to go with it. Oh the good old days they go by so fast. This is the perfect comfort meal to make when your day is so busy and you're not quite sure what to make for dinner, and the best part it only takes 30 minutes.This soup with tortellini and veggies is a hearty meal by itself, but I add sides like bread, and salads plus some fruit.YOU WILL NEED THE FOLLOWING INGREDIENTS…Onion, celery, and carrots..a great way to have your family eat their vegetables.Garlic…a couple teaspoons of minced is perfect.Chicken broth…a Must in your soup. We love Better than Bouillon!Chicken….I use a rotisserie chicken from Costco.Tortellini….I used three cheese tortellini from my grocery store.Half & Half..just one cup for a creamy soup.Salt & pepper……seasoning is very important.Parmesan Cheese..freshly shredded.Red Pepper Flakes…..just a little.Spinach….for garnish on the top.Double this recipe when you make it because everyone always asks for more.Let's head over to the kitchen and make this 30 Minute One Pot Meal for dinner today.
Ingredients
2 tbsp unsalted butter
1/2 medium onion, diced
4 ounces baby carrots, halved lengthwise and sliced into half moons
2 cloves garlic, minced
1 pound boneless chicken breasts, cut into bite-sized cubes
1 tsp salt
1/2 tsp ground black pepper
1/4 cup all-purpose flour
4 cups reduced-sodium chicken stock
1 cup half-and-half
1 tsp crushed red pepper flakes
9 ounces cheese tortellini, frozen or fresh
2 cups freshly shredded Parmesan Cheese
2 ounces baby spinach
Instructions
Warm a large pot over medium-high heat. Add the butter and let it melt. Add the onions and carrots. Cook the vegetables until the onions are translucent, about 3 minutes. Add the garlic and cook for 30 seconds.

Then add the chicken. and salt and pepper. Stir to combine. Don't worry about the chicken being cooked through, because we are going to continue cooking it.

Sprinkle the flour over the chicken and veggies. Stir to coat everything and continue cooking for 2 to 3 minutes. Stir in the chicken stock, half-and-half and red pepper flakes. Continue cooking until the soup thickens, 5 to 10 minutes.

Add the tortellini to the pot and cook until al dente 5 to 7 minutes (frozen takes longer) Remove the pot from the heat. Sprinkle a handful of cheese over the soup and stir.

Once it hs melted into the soup add another handful. Slowing melting the cheese will give the soup a smooth consistency. Taste for seasoning and add salt and pepper as necessary. Pour into bowls and garnish with spinach.

Adapted from Donna Elick.
---