Turkey Gravy With Drippings…Divine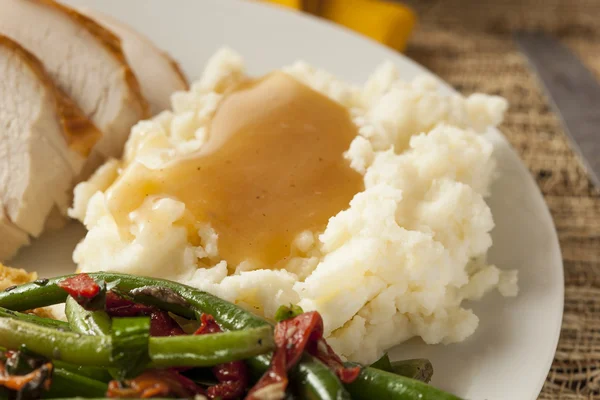 It is that time of the year to count our blessings and enjoy family and friends. I love Thanksgiving and the memories we make every year at our house. I love fall and the cooler weather, the leaves changing colors and holiday seasons.
We always had a big Thanksgiving meal growing up with so much food. Mom was a fabulous cook except for her turkey gravy. She used the giblets in it YUCK!!! I love gravy but with delicious flavor as you drizzle it over your plate of mashed potatoes, turkey, and stuffing.
Of course the best gravy for is made with pan drippings from your roasted turkey. You have to practice to make a flavorful gravy that everyone will enjoy. (believe me it took me a while) But with a few instructions you can master it.
INGREDIENTS…..
DRIPPINGS….are the leftover juices, and the bits left on the bottom of the pan from your cooked turkey.
BROTH…..chicken or turkey.
FLOUR..
this is to make the base of the gravy (called the roux)
CARROTS, CELERY, and ONION…
these vegetables are used to infuse more flavor into the broth. (DELICIOUS!)
FRESH HERBS….Rosemary, Sage, and Thyme will make the flavor come out even more.
RECIPES THAT WORK FOR LEFTOVER TURKEY
Easy Turkey Tortilla Soup
Turkey Pot Pie
Turkey & Dressing Casserole
Learning how to make gravy from pan drippings is easy to do. Let me show you how.
Ingredients
1 cup 1 cup turkey drippings, including fat
1 large carrot, sliced thinly

1

 yellow onion, peeled and diced
1  celery stalk, sliced thinly
3 sprigs fresh thyme
6 tbsp  all purpose flour
3 1/2 cups turkey or chicken broth  turkey or chicken broth
1 tsp sage
1 tsp rosemary
salt and pepper to taste
Instructions
INSTRUCTIONS
Strain to remove any solid material and allow to sit 10-15 minutes for fat to rise to the surface.

Skim fat off the surface with a large spoon, reserving 4 tablespoons of the fat and one cup of the drippings.

Add turkey fat to a large saucepan and add vegetables and thyme, rosemary, and sage.

Cook over medium heat until soft, about 8 minutes.

Sprinkle flour over the mixture and stir until flour is absorbed by the liquid to form a roux.

Continue to cook while stirring an additional 2-3 minutes or until golden in color.

Add in turkey drippings while continuing to stir constantly. Cook about three minutes (continuing to stir) then add turkey stock.

Bring gravy to a simmer and reduce heat to simmer for 10-12 minutes or until thickened.

Strain gravy to remove herbs and veggies and salt and pepper to taste before serving.

You may substitute butter for turkey fat if necessary and use chicken stock instead of turkey stock.
---