The Ultimate Breakfast Grilled Cheese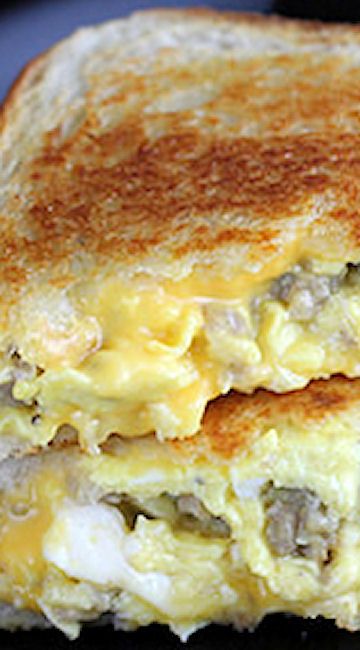 Looking for an easy breakfast sandwich? This Breakfast Sandwich is delicious and so easy to make. Your whole family will love mornings when you cook them breakfast. What kind of cheese is good on an Grilled Egg Sandwich? Choose from any of the following….. Sliced cheddar, pepper jack, Colby jack, Swiss, You can whip up these in minutes for a scrumptious way to start a morning. These sandwiches can be easily customized to your taste by swapping cheese or adding ham, or crispy bacon.SOME TIPS ON MAKING AWESOME EGG SANDWICHES!Use good quality bread…..hearty multi grain bread, sourdough, whole wheat bread, bagels, or Texas Toast.Try melted butter or mayonnaise it adds fabulous flavor, or you can use salted or unsalted butter.This is the ultimate grab 'n' go breakfast so let's get cooking……
Ingredients
INGREDIENTS
1/2 pound ground breakfast sausage
6 large eggs, beaten
8 slices Colby-Jack cheese
8 slices Texas Toast
4 tbsp soft butter
Instructions
Instructions
In a large non-stick skillet, cook the ground breakfast sausage until no longer pink. Transfer the cooked sausage to a medium paper towel-lined mixing bowl and set aside. Wipe out the pan with a paper towel.

In the same skillet, melt 2 tablespoons of butter over medium-high heat. Pour the eggs into the pan. Once the eggs begin to set, gently stir making scrambled eggs, until the liquid is almost gone. Remove the pan from the heat.

Add the scrambled eggs to the bowl with the sausage and gently stir to combine. Wipe the skillet with a paper towel and heat it over medium heat.

Butter one side of each piece of bread. In a separate frying pan on medium-low, add a slice of bread, buttered side down. Top with one slice of cheese, and 1/2 cup of the sausage-egg mixture. Top with another slice of cheese, then another slice of buttered bread with the butter side facing up.

Cook until cheese is melted and bread is golden brown on both sides.

Serve right away.
---