Stuffed Zucchini Boats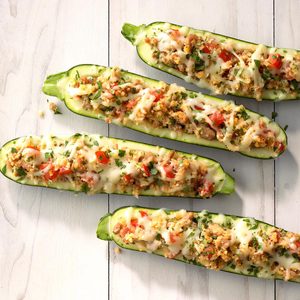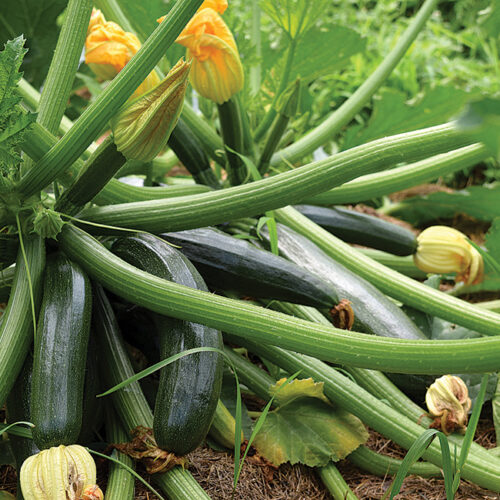 DELICIOUS!!
I only planted One Zucchini plant this year and I have SO MUCH Zucchini. These plants go crazy in the summer!! I have a Zucchini cookbook that our church put together that has lots of recipes to make that are so good. I cut a lot of zucchini every year up in cubes and freeze for soups in the winter. I also shred some for cakes, cookies, and muffins. Of course we make lots of delicious food using that cookbook including these Stuffed Zucchini Boats. This Stuffed Zucchini Boat Recipe is the perfect supper for any day of the week. It's easy to make, and hearty! Your family will be begging for more!!INGREDIENTS NEEDED….Zucchini cut lengthwiseFinely chopped onionChopped MushroomsMinced garlicGround beefChopped Red and Green Pepper Shredded cheddar cheeseMarinara SauceSalt and pepperServe this easy dish with a side salad and garlic bread for the perfect family meal!Store the cooked zucchini boats in a resealable container in the fridge and reheat them in the microwave. The zucchini boats will keep in the fridge for up to  4 days.SOME RECIPE TIPS…. Look for medium-sized zucchinis that are firm and have smooth skin. Use a small spoon or a melon baller to scoop out the flesh from the zucchini Gently scrape along the center of each halved zucchini, and remove the seeds to create a hollow space for the filling.Zucchini have a lot of water in them. If you sprinkle a pinch of salt over them after you hollow them out it will help with that. Let them sit for about 10 minutes then pat them dry with a paper towel before filling them.A great recipe to use up all the zucchini from your garden! Scroll below and I will show you how to make this.
Ingredients
2 medium zucchini
3/4 pound ground beef
1 small chopped onion
1/2 cup chopped fresh mushrooms
1/2 cup chopped sweet red pepper
1/2 cup chopped green pepper
1 cup shredded cheddar cheese, divided
Salt and pepper to taste
2 cups marinara sauce
Instructions
Trim the ends off zucchini. Cut zucchini in half lengthwise.

In a skillet, cook beef, onion, mushrooms and peppers over medium heat until meat is no longer pink; drain. Remove from the heat. Add 1/2 cup cheese, marinara sauce and salt and pepper mix well. Spoon into the zucchini shells. Place in a greased 13×9-in. baking dish. Sprinkle with remaining cheese.

Bake, uncovered, at 350° until zucchini is tender, 25-30 minutes.
---