Zucchini Fritters We Love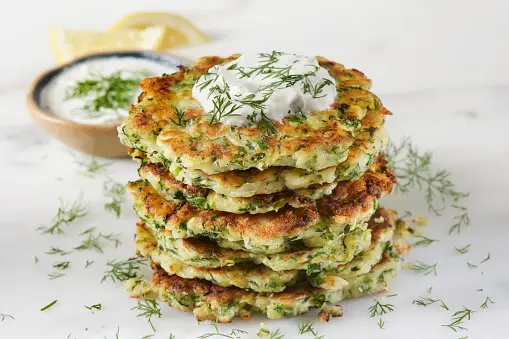 A Savory Zucchini Pancake
I always have some zucchini in my garden every summer. This year I only have one plant but I have a lot of zucchini!! I make them into pickles and relish, cakes, cookies, casseroles,bread and our favorite is Zucchini Fritters. This is a yummy recipe that is great for BBQs, and family dinners.Your family will not believe this is vegetables cooked up into yummy cheesy fritters. We like warm spaghetti sauce and sour cream on ours. So Delicious!Zucchini….Use the large hole side of a cheese grater to make zucchini fritters. (1 zucchini yields around 1 cup of grated zucchini.)CarrotsFresh Garlic….or 1 tablespoon of garlic powder.Parmesan cheeseMozzarella cheeseFlourBasilEggsSalt and PepperOlive or Canola OilYou can also AIR FRY these fritters. Spray your air fryer basket with a little cooking spray then add a few fritters in the basket.Air fry them at 380°F for about 8 to 10 minutes, flipping them over halfway through. You will love them both ways. These zucchini fritters will keep in the fridge for 3 – 4 days stored in an airtight container. You can keep them frozen for up to 3 months. YOUR FAMILY WILL LOVE THIS SOUR CREAM DIPPING SAUCE…..1/2 c. sour cream2 garlic cloves, minced2 tsp. lemon juice1/4 tsp. salt1/4 tsp. pepperMix all together and refrigerate until you are ready to eat.These savory pancakes with a tasty mixture of fresh zucchini and carrots is so DELICIOUS!! I guarantee you'll be making it over and over again!Learn how to make Zucchini Fritters. An easy recipe for all your extra zucchini harvest!Happy Cooking!!
Ingredients
2 cups shredded zucchini (To get the water after shredding let it sit in a colander for 15-20 minutes.)
2 cups shredded carrots
2/3 cup flour
1/3 cup chopped scallions (can just use a regular onion)
2 large lightly beaten eggs
2 minced cloves garlic
2 tbsp olive oil or canola oil
1/4 tsp salt
1/8 tsp pepper
1/2 cup  grated Parmesan cheese
1/2 cup  shredded mozzarella cheese
1/2 tsp  dried basil
Instructions
Place the zucchini in a strainer over a bowl. Gently press down to squeeze the excess liquid out.

In a medium bowl, add the strained shredded zucchini, shredded carrots, flour, scallions, eggs, basil, garlic, cheeses, and salt and pepper. Stir well to incorporate all ingredients.

Place paper towels over a large plate, set aside.

Heat skillet over medium-high heat and add olive or canola oil until a few drops of water sizzle in the pan when addedScoop 1/4 cup of zucchini mixture out and carefully add to skillet.

Allow the fritters to cook for approximately 3 minutes, and then flip to cook the other side for 1-2 minutes or until golden brown.

Place the fritters on the prepared plate to allow the excess grease to drip off.

Serve with a dollop of sour cream and some warm spaghetti sauce.
---