Kid-Friendly Chicken and Rice Burrito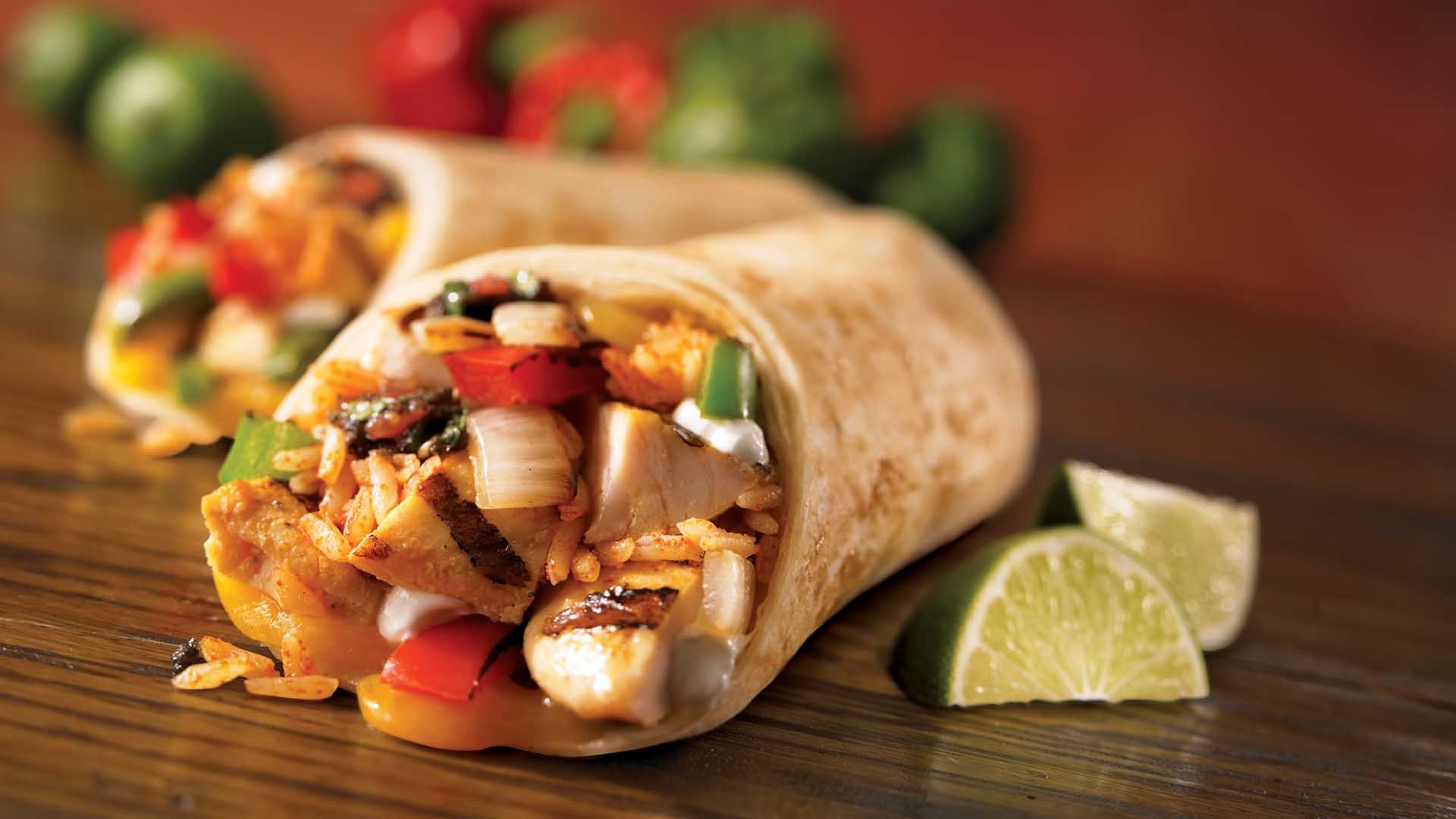 This Chicken and Rice Burrito recipe uses grocery store rotisserie chicken and Mexican spices for an easy one-pan meal. Perfect for those who love giant chicken burritos.
Every time I shop at Costco I pick up one of their rotisserie chickens. They are so inexpensive and delicious to use in many recipes.
One great thing about this recipe is that it uses ingredients you probably have in your kitchen…. chicken, cheese, canned tomatoes and beans, onions, and garlic. Easy Peasy!
INGREDIENTS FOR CHICKEN AND RICE BURRITOS……
Chicken Breasts
Onion
Olive Oil
Garlic Salt
 Chili Powder
 Cumin 
Paprika
 Diced Tomatoes
Salsa 
Refried Beans 
Burrito Size Flour Tortillas 
Mexican Rice 
Cheddar Cheese, shredded 
HOW TO MAKE CHICKEN BURRITO FILLING IN THE SLOW COOKER…
(If you are using raw chicken ( 4 boneless chicken breasts) add everything except for the tortillas, rice, beans, to the slow cooker. Stir to mix everything together.
Cook on high for 4 hours, or on low for 8 hours. Remove the chicken and dice into small pieces.Stir back into the pot.
When I was cooking at the high school I made many burritos every day. I had to learn how to fold them so all the filling stayed inside.
EatThis.com
has a great tutorial below that will teach you how to fold these flavorful Chicken and Rice Burritos.
How to Fold a Burrito So None of Your Filling Falls Out
WHAT TO SERVE WITH CHICKEN BURRITOS….
I usually serve these with some sides like tortilla chips and guacamole.
Refrigerate leftover chicken burritos wrapped in foil or stored in an airtight container for 2 to 3 days.
Ingredients
1 rotisserie chicken breasts (cut into bite size pieces) 
2 Tbsp  Olive oil (divided)
1/2 diced onion
1 tsp  chili powder
1 can  diced tomatoes (15 oz can)
1/2 cup  salsa
1 cup  Refried Beans
2 cups Mexican Rice
6  burrito size flour tortillas
you can add in sliced jalapeno to kick up the spice level.
Instructions
Heat the olive oil in a large skillet over medium heat. Add the rotisserie chicken and diced onion. Sauté the chicken with the onion for 3-5 minutes until the chicken is browned. 

Stir in the salsa, diced tomatoes, seasoning and water. Cover and simmer for 7-10 minutes until the chicken is tender and cooked.

Heat the refried beans and Spanish rice in separate bowls in your microwave. 

Heat the tortillas for 30-45 seconds so that they are pliable. 

Place 1 of the tortillas on a flat surface. Spread 1-2 Tbsp of the refried beans on the center of the tortilla. Then top with 1/4 cup of the Spanish rice. 

Then place approximately ¼ cup of the chicken mixture in each burrito and top it with the shredded cheese. 

Heat the remaining olive oil in a large skillet over medium high heat. 

Wrap and cook for 1-2 minutes on each side until brown slightly. 

If you prefer to BAKE these Yummy Chicken Rice Burrito's here are the OVEN INSTRUCTIONS…..Preheat the oven to 425ºF and spray a baking sheet with non-stick cooking spray.Place the burritos on the baking sheet and sprinkle with cheese and drizzle with olive oil.Bake the burritos for 10-15 minutes or until the burritos begin to brown and the cheese is melted. Enjoy.
---