Strawberry Poke Cake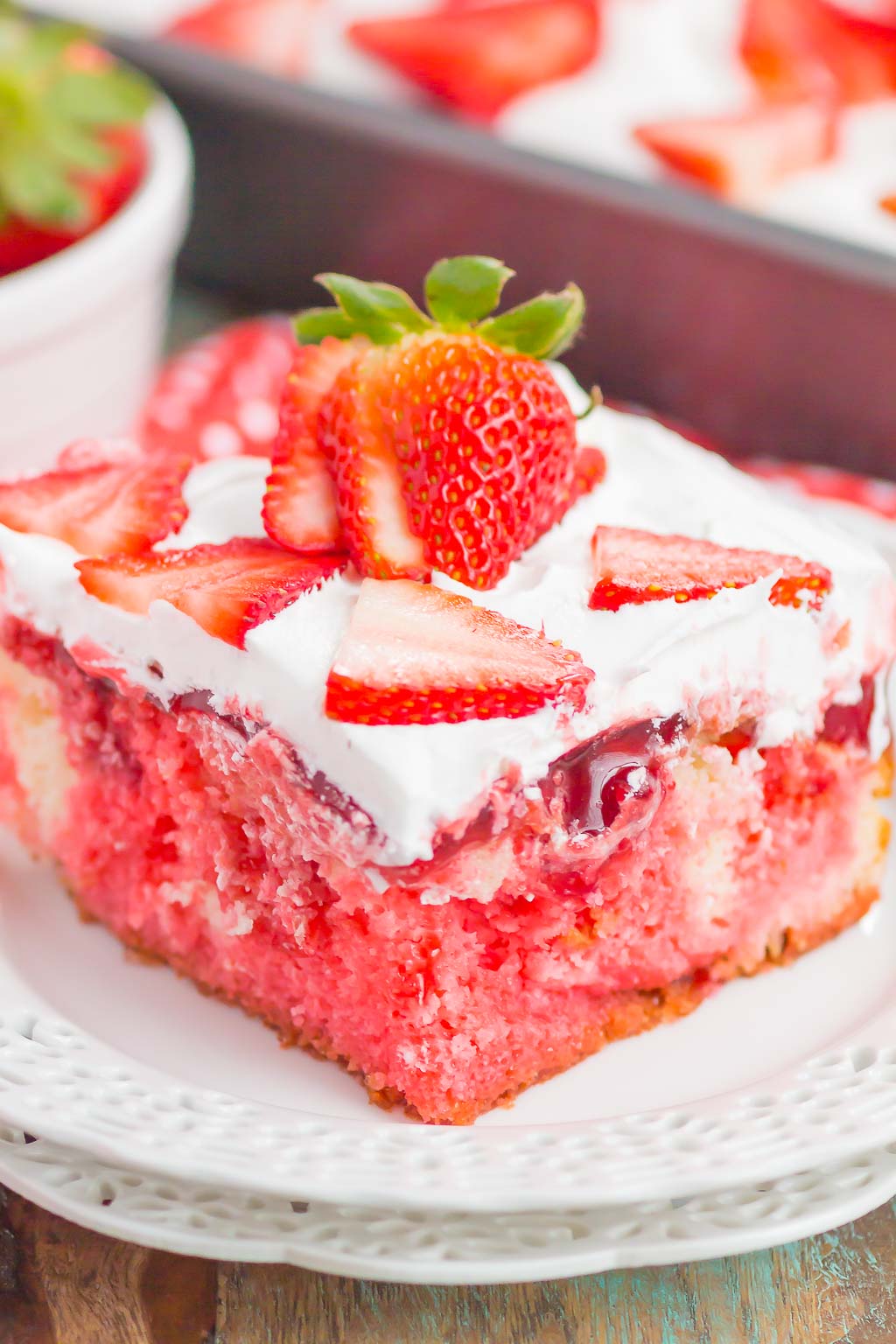 Strawberry Poke Cake is a fruity, and easy dessert recipe that everyone will love year-round. It is a treat that is perfect for picnic's, summer potlucks, picnics, and the Fourth of July! 
It is interesting to me how many people do not know what a Poke Cake is. It has been around for ages and very popular. Believe me after they have some they will want the recipe!
A poke cake is a baked cake that has holes poked through and then some kind of liquid (like Jello) poured on top of the cake. SO DELICIOUS!!
INGREDIENTS NEEDED….
Boxed vanilla cake mix
Strawberry Jello
Water
Strawberry pie filling
Cool Whip
Fresh strawberries
WHAT TO USE TO POKE HOLES ALL OVER THE CAKE…..
We use a handle of a wooden spoon. Just make sure to poke the holes 1 inch apart or your cake will be too wet after pouring your jello all over it.
to bake in. I think you will love this one.
You need a good 9×13 Cake Pan
to bake in. I think you will love this one.
Note: This cake works with ANY cake mix flavor and ANY Jell-O flavor!
This really is one of the best poke cakes I've had. It's perfect for summer.
Grab your apron and lets go make one…..
Ingredients
1  (15.25 ounce) box vanilla cake mix…plus ingredients on the back of box to prepare
1  (3 ounce) box strawberry flavored jello
1 cup  boiling water
1 cup  cold water
1  (21 ounce) can strawberry pie filling

1

(8 ounce) container whipped topping
Fresh strawberries for garnish
Instructions
Prepare the cake according to packaged directions and bake until toothpick inserted into middle of cake comes out clean.

Let cool in pan for 10 minutes. Then using the bottom of a wooden spoon poke holes all over the cake so that the jello mixture will seep in. Set aside.

In a medium bowl, add jello mix and boiling water. Whisk until mixture is completely dissolved. Add the cold water and mix well.

Pour jello mixture over cake and then cover cake pan with plastic wrap or foil. Refrigerate for at least 3-4 hours.

Take the cake out of the refrigerator and spread strawberry pie filling all over the cake, and then top with whipped topping.
---