How to Make Mason Jar Ice Cream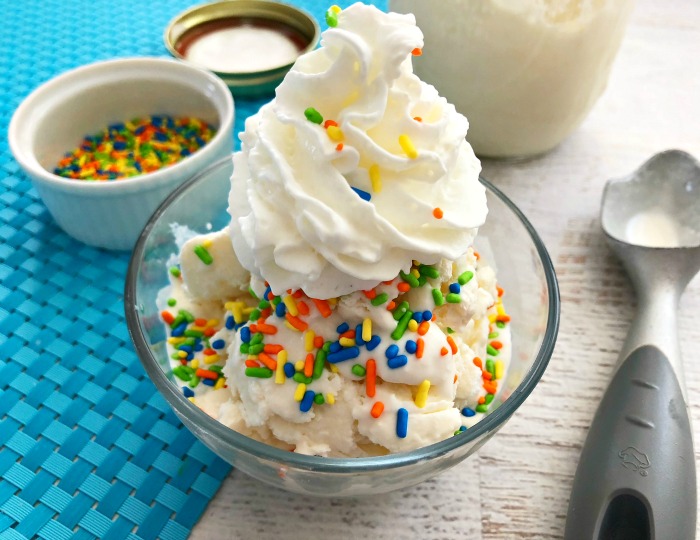 I know growing up you heard the phrase
"I scream You scream We all scream for Ice Cream."
The family will love making this Mason Jar Ice Cream!
Ice cream is the perfect cool treat for all those hot summer days spent at the playground with the kids or if you have a backyard pool. This recipe is so easy and so inexpensive to make.
When you make Mason Jar Ice Cream you don't need an ice cream maker. All you need is a mason jar and 4 ingredients!
INGREDIENTS TO MAKE MASON JAR ICE CREAM
Heavy cream
Sugar
Vanilla extract
Sea salt
Use a wide-mouth mason jar to make the ice cream.
I do not like to put glass jars in a freezer but these disposable ice-cream container work great. I use these disposable Ice-Cream Containers 
For Chocolate Ice Cream….. Add in 1-2 tablespoons unsweetened cocoa powder before shaking.
For Strawberry Ice Cream….. Blend 1/2 cup fresh or frozen strawberries or jam into a puree. Mix in before shaking. Then just put in a few drops of red food coloring if you want to.
For Cookies and Cream Ice Cream…. Smash up 2-3 chocolate sandwich cookies and put the pieces in the ice cream mixture before freezing.
Let me show you How to Make Homemade Ice Cream in a Jar…….
Ingredients
1 cup heavy cream
1 1/2 Tbsp. sugar
1/2 tsp. vanilla extract
pinch of kosher salt
Instructions
Pour cream, sugar, vanilla and salt into an 8 ounce mason jar. Add any mix-ins you're using. Cover the jar with its tight-fitting lid and shake until the ingredients become thick and double in size, about 3 to 4 minutes.

Freeze for 2 to 3 hours until the consistency resembles soft-serve ice cream, being careful not to freeze any longer to avoid ice crystals.

Try a drizzle of chocolate sauce, chopped strawberries, or toasted, chopped nuts or chocolate. 

Freeze until the mixture hardens, about 3 hours. 

ENJOY!!
---