Sour Cream Peach Kuchen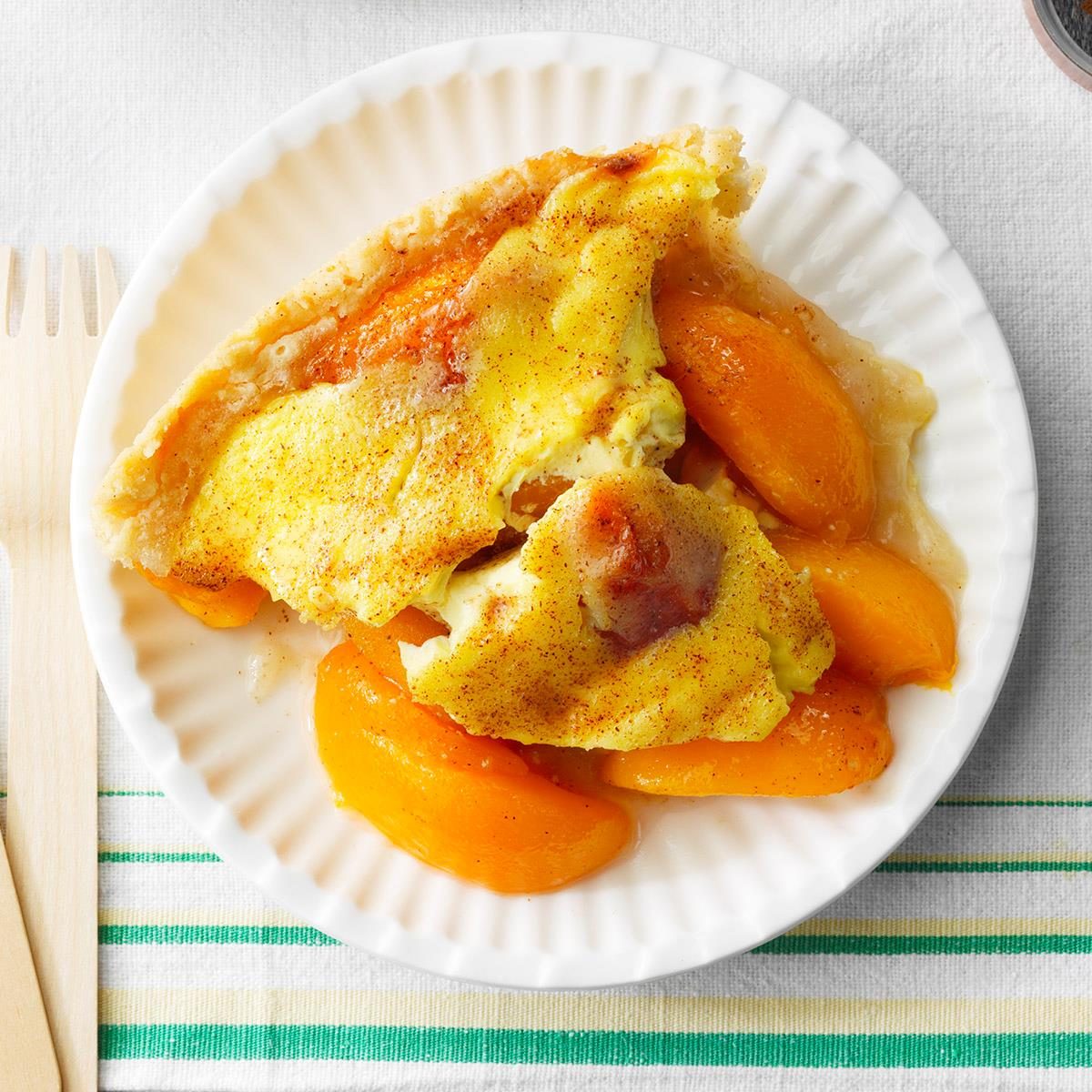 Oh My Gosh I had forgotten all about this recipe!! When I first started cooking at different facilities I was introduced to Peach Kuchen. I could not stop eating it. It is so heavenly!!Kuchen is the German word for cake just in case you were wondering. It's made with peaches, custard, and a shortbread crust. My mouth is watering just thinking about it.What is peach kuchen made of?Peach Kuchen is a delectable German peach cake made with either fresh or canned peaches. Simple custard cream and cake batter is baked all together creating a moist and delicious cake.INGREDIENTS FOR PEACH KUCHEN…FlourSugarBaking powderEggMilk ButterPeachesButterCinnamonSour CreamEgg YolksWe like to use fresh peaches but you can use frozen peaches for this recipe. Just thaw your frozen peaches well and get as much moisture as you can out of them. In our family we like to serve this warm with a scoop of vanilla ice cream, or a dollop of homemade whipped cream.Make one this week for your family!Happy Baking 🙂
Ingredients
3 cups flour
1 1/4 cups sugar, divided
1/2 tsp baking powder
1/4 tsp salt
1 cup cold cubed, butter
2 cans (29 ounces each) sliced peaches, drained or 13 small peaches, peeled and sliced
1 tsp ground cinnamon
TOPPING
4 large egg yolks
2 cups sour cream
2-3 tbsp sugar
1/4 tsp ground cinnamon
Instructions
In a large bowl, combine the flour, 1/4 cup sugar, baking powder and salt; cut in butter until mixture resembles coarse crumbs. Press on to the bottom and 1 in. up sides of a greased 13×9-in. baking dish.

Arrange peaches over crust. Combine cinnamon and remaining sugar; sprinkle over peaches. Bake at 400° for 15 minutes.

For the TOPPING…. use a small bowl and combine egg yolks and sour cream. Spread evenly over peaches. Combine sugar and cinnamon; sprinkle over top.

Bake 30-35 minutes longer or until set.

ENJOY!!
---