Easy To Make Bread Cornucopia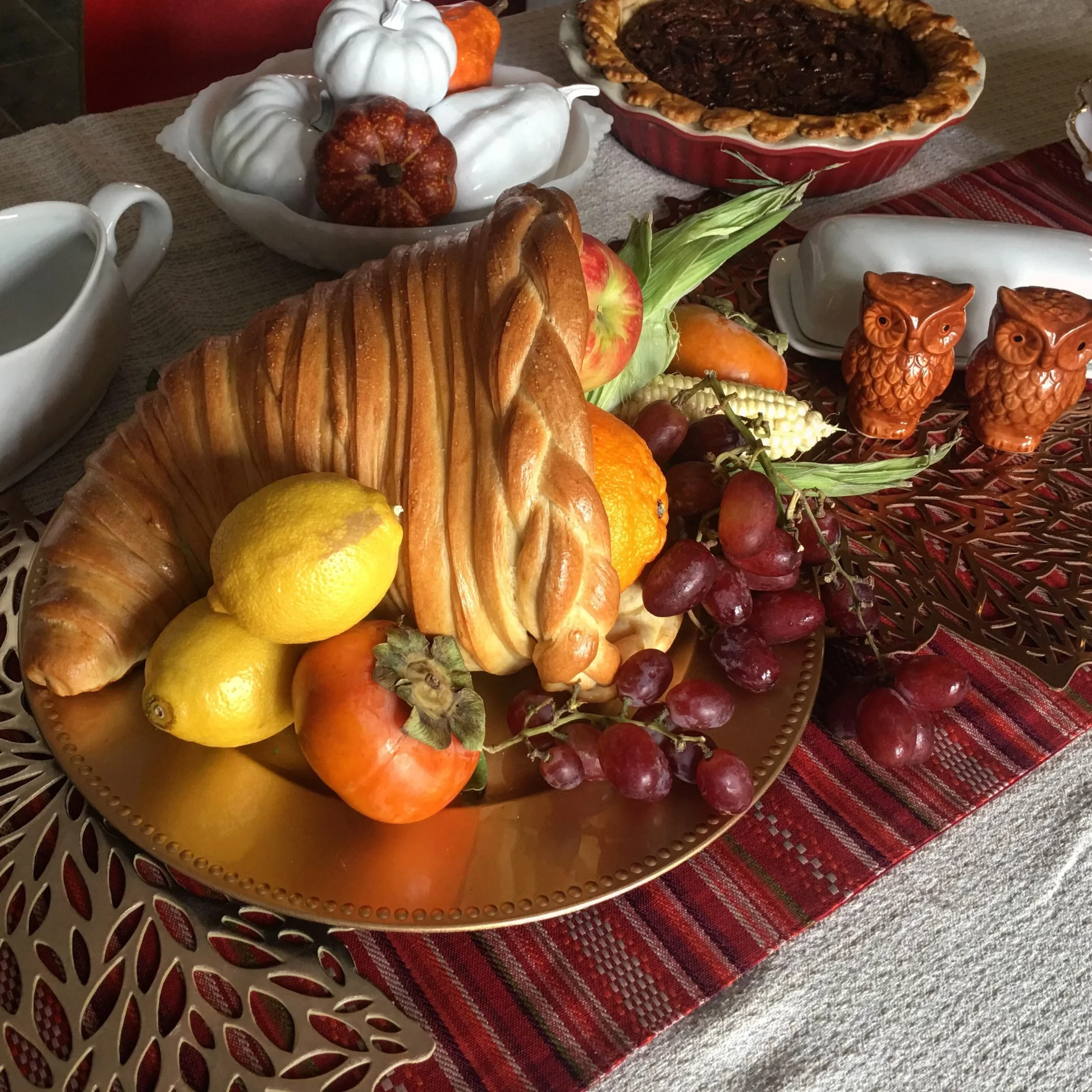 Can you believe Thanksgiving is less than two weeks away? Thanksgiving is a holiday where you get together with family and friends and give thanks for our blessings. It was extremely important for the first settlers.
It was always a tradition to have a cornucopia on our table for Thanksgiving, they are so fun to make! For something different this year, bake your own cornucopia centerpiece!
As you gather together with your family and friends to celebrate America's abundance this Thanksgiving, you just might want to have one nearby for good luck! Long associated with Thanksgiving, the cornucopia represents America's prosperity, abundance, and success
INGREDIENTS NEEDED….
3 containers of refrigerated bread stick dough
Heavy Duty Aluminum Foil
1 Egg
Fruits, Vegetables, cheese, and other goodies to stuff in your cornucopia
Non-Stick Cooking Spray
A cornucopia (or "horn o' plenty") is a symbol of abundance, which was extremely important for the first settlers. It will make a stunning centerpiece for your Thanksgiving table.
The edible cornucopia is made from pre-made bread dough and then baked. Fill it with nuts, fruit or other seasonal fall items.
This Easy To Make Bread Cornucopia will impress your friends and guests as they gather around your table.
Fill your bread Cornucopia with gourds, Indian corn, wildflowers and other seasonal delights. Squash, pumpkins and gourds are staples of the harvest season; naturally, these delightfully bumpy and gnarly-stemmed fruits are included in the cornucopia.
Serve as the centerpiece of the Thanksgiving table. It will make quite an impression.
I hope you enjoy this recipe for your holiday table. Our family wishes you a blessed Thanksgiving!
Scroll below and get ready to make one this year…..
Equipment
1 roll of tin foil

Cooking spray

Baking Sheet
Ingredients
3 cans refrigerated soft breadstick dough
1 egg
1 tbsp water
Instructions
Heat oven to 350°F. Lightly coat a baking sheet, at least 17 by 14 inches, with nonstick spray.

To make form for Cornucopia: grab a water bottle and some aluminum foil.Tear off a 30 by 18-inch sheet of heavy-duty aluminum foil. Fold in half to 18 by 15 inch. Roll diagonally to form a hollow cone about 18 inches long with a diameter of 5 to 6 inches at wide end.

Fasten end with tape. Stuff cone with crumpled regular foil until form is rigid. Bend tail of cone up. Spray outside of cone with nonstick spray. Place on baking sheet.

Once you have a sturdy foil mold, you can leave the bottle in to make the mold easier to work with, but be sure to remove the bottle before you pop it in the oven. Coat your mold liberally on all sides with non-stick cooking spray.

Open and unroll 1 can of dough. Separate breadsticks. Gently roll with hands on your counter top until breadsticks are about 18 inches long. Begin by wrapping 1 breadstick around tip of cone.

Tuck end under, then press on another breadstick. Continue spiral-wrapping cone, slightly overlapping dough, until there are 6 breadsticks left.

Pinch 1 end of each of 3 breadsticks together, then braid, attaching remaining 3 breadsticks to first 3 by pressing ends together. Continue to braid. Brush bread around opening of Cornucopia with glaze. Gently press on braid. Brush entire Cornucopia with glaze.

Brush your cornucopia with melted butter and bake at 350 F for 25 to 30 minutes on the lower rack, or until it turns a golden, shiny brown.

Remove from oven; let cool completely on baking sheet on a wire rack. Remove foil when cool and fill with your favorite Thanksgiving food.
---