Irresistible  Peach Fritters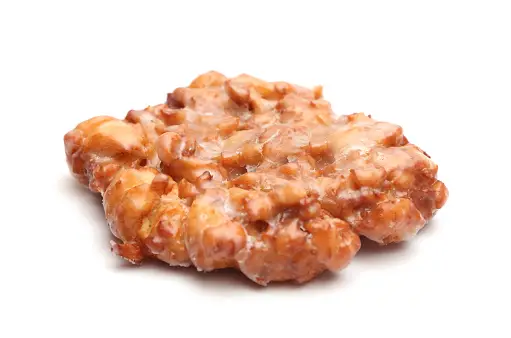 Is there anything better than biting into a sweet, juicy peach? Every year I love when peach season arrives. Even better when I can go and pick peaches from the orchard. There are so many recipes to make with peaches and the one I am sharing with you today is Peach Fritters.
A fritter is a deep fried pastry very similar to a doughnut.
Peach Fritters are so easy to make it literally just takes minutes to put the recipe together.
INGREDIENTS NEEDED….
Fresh Peaches
Flour
Milk
Eggs
Butter
Baking Soda
Sugar
Cinnamon,
Salt
Confectioner's Sugar
Milk
Vanilla
These old-fashioned peach fritters are the perfect treat for fall! I know they will become a favorite in your family like ours.
They are SO GOOD!
Scroll down and let me show you how to make some.
Ingredients
1 cup flour
1 tsp salt
1 tsp baking powder
3 tbsp sugar
1/2 tsp cinnamon
2 eggs
1/3 cup milk
1 tbsp melted butter
1 1/4 cups diced peaches
oil for frying
GLAZE
3 cups powdered sugar
1/2 cup milk
1 tsp vanilla
Instructions
Using a whisk, combine flour, salt, sugar, cinnamon and baking powder. Whisk in eggs, milk and butter. Gently fold in peaches.

Pour oil into skillet so that it is about 1-1/2 inches deep. Oil is ready when dough floats to top.

Carefully spoon about 1/4 cup of dough into hot oil.

Cook for about 2 – 3 minutes, depending on size of fritters. Cook until both sides are golden brown.

Remove fritters from oil and place on paper towels to drain.

In a small bowl, make the glaze by adding the powdered sugar and stirring in enough milk until you reach a glaze consistency.

Drizzle the glaze over the warm fritters.
---