The Best Strawberry Cake Recipe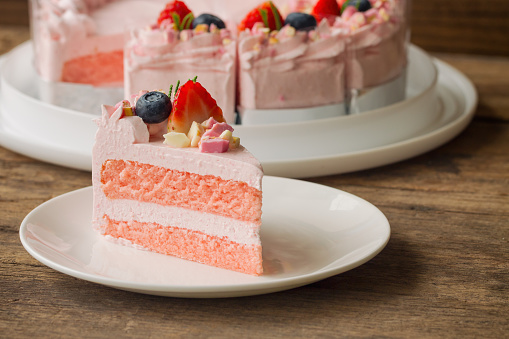 Calling all Strawberry Lovers this is the BEST Strawberry Cake you will ever bake! This cake is so easy to make because it starts with a cake mix, but you do not have to tell anyone that it is not homemade. 🙂 It is so scrumptious!
The second you have a taste of this strawberry cake with strawberry buttercream, you'll wonder why you have not made this cake before!
This is the absolute best Strawberry Cake Recipe YOU will ever make!!!! AMAZING!!!!
This strawberry cake must be kept cold, so I make it a day ahead and let it chill in the fridge overnight. Then the next day make the icing and frost the cake.
You can decorate with whole strawberries. Make sure the berries are completely dry before placing them on top of the cake. Keep the stem on or remove it.
I doubt there will be a single slice left.
Let me show you just how easy this is to make.
Ingredients
1 Box  White Cake Mix 16.25 ounces
1 3oz  Package of Strawberry flavored gelatin
1/2 cup  Milk
5 large Eggs
1/4 cup canola oil
1 cup  Strawberry Puree If using frozen strawberries, thaw and drain well prior to pureeing.
Strawberry Frosting
3/4 cup  Frozen Strawberries Well drained, pureed
8 oz  Cream Cheese (Room temperature)
1/4 cup  Butter Room temperature
1/4 tsp  Vanilla Extract (double this)
3 1/2 cups  Powdered Sugar 
Instructions
Preheat oven to 325°F. Prepare two 9" round cake pans with grease and flour. Set aside.

In a stand mixer, combine cake mix and gelatin, whisk together by hand.

In a large bowl, gently beat the eggs and add milk and oil.

Add egg and milk mixture into the mixer and mix on medium speed for about 2 minutes.

Add in pureed strawberries and continue to mix until well combined.

Evenly divide the cake batter between the two prepared cake pans.

Bake at 325°F for 26-29 minutes until the cake bounces back when you touch it. If using the toothpick test, the toothpick should come out with moist crumb but not batter.

Remove from the oven. Wait at least 15 minutes prior to transferring the cake to wire racks to continue to cool. Allow to cool completely prior to frosting.
STRAWBERRY FROSTING
In an electric mixer, whip together the cream cheese and butter until no lumps remain about 1-2 minutes.

Add vanilla extract and continue to blend.

Add in sifted powdered sugar in increments of about ½ cup at a time. Whip until combined. Continue until all sugar has been added.

Drain the strawberries well and then puree. Add into the frosting mixture a ¼ cup at a time and whip. Continue to add until the frosting has reached desired consistency.

Frost the cake using a generous layer of strawberry frosting.

Refrigerate for 1-2 hours prior to serving.

Store the cake in the refrigerator for up to 5 days.
---