Heavenly Peach Pound Cake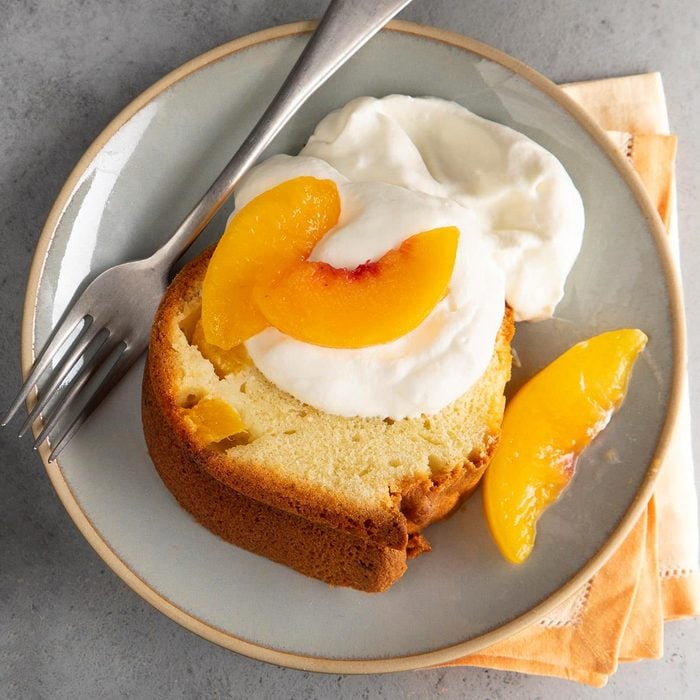 Today is another recipe using peaches. If you have been shopping for peaches and are looking for a wonderful recipe you have found it.My sister and her husband were just here for a visit. They arrived just in time for dinner. I had everything ready and this recipe for Peach Pound Cake had just came out of the oven. I just love pound cake. It was soooo delicious with a dollop of whipped cream on each slice. I sent the last pieces of this heavenly cake home with my sister and her husband. This pound cake is loaded with fresh summer peaches and is the perfect recipe for a summer dessert.I am a huge peach lover and get so excited when I can go pick them at the orchard. I always bring some home that are not ripe yet but that is ok with me because I want to be able to get them done in about a weeks time.This delicious Peach Pound Cake  is a buttery and moist pound cake that has chunks of sweet peaches in it. Everyone will want the recipe!!There are so many wonderful peach recipes you can make…..Peach SmoothiesPeach CobblerPeach Ice CreamPeach JamPeach PieSO HOW DO YOU KNOW IF YOUR PEACHES ARE RIPE??? Smell them….a ripe peach will have a aroma that is very potent.  Squeeze peaches carefully with your fingers, if they feel soft, not mushy, then your peaches are ripe.Check out the color of the peaches. They should have a lovely reddish blush.INGREDIENTS NEEDED….Salted butterWhite sugarLarge EggsVanilla extractAlmond extractSour CreamAll-purpose flour Your cake will stay moist and delicious for 5 days in your fridge.CAN YOU USE CANNED OR FROZEN PEACHES…Fresh is always the best way to go. However you can use frozen or canned. If you just have frozen you need to thaw and drain the extra liquid. (Sometimes you might experience longer cooking with frozen peaches.) Canned peaches should be drained well before adding.This is delicious cake that I serve with a large scoop of vanilla ice cream or a dollop of homemade lightly sweetened whipped creamThis delicious peach pound cake that will be the hit at your next family gathering.Let's go make one….
Ingredients
1 cup butter, softened
2 cups sugar
6 large eggs, room temperature
1 tsp almond extract
1 tsp vanilla extract
3 cups flour
1/4 tsp baking soda
1/4 tsp salt
1/2 cup sour cream
2 cups diced peaches
Whipped cream
Instructions
Preheat oven to 350°. Grease and flour a 10-in. Bundt Pan. Then take ¼ cup of granulated sugar and dust the pan, rotating the pan to coat well. It makes a fabulous crust everyone loves.

In a large bowl, cream butter and sugar until light and fluffy, 5-7 minutes. Add eggs, 1 at a time, beating well after each addition.

Beat in extracts. Combine flour, baking soda and salt; add to batter alternately with sour cream, beating well after each addition. Fold in peaches.

Pour into prepared pan. Bake until a toothpick inserted in the center comes out clean, 60-70 minutes. Serve with ice cream or whipped cream and additional peaches.
Notes
You can make this into a peach loaf pound cake.  Instead of using a bundt pan or tube pan, divide the batter into a loaf pan.  
---