Grandma Approved….Best Darn Ham Sandwiches Ever!!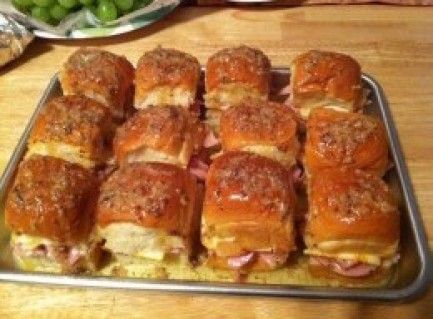 My sister was just visiting and she told me about this recipe for The Best Darn Ham Sandwiches. If you have not tried sliders they will become one of your favorite sandwiches.  Kids, adults, teens, – everyone loves them!
Sliders have been enjoying a lot of time in the spotlight in recent years.  It isn't hard to understand why they've become so popular; like their larger counterpart sliders offer endless variations.  But the truth is that sliders have been around for a long time.  They were first made back in 1921 when then the hamburger chain White Castle opened.  Walter A. Anderson and Edgar Waldo "Billy" Ingram founded White Castle in Wichita, Kansas.  The two men set out with the goal to re-gain the faith of American consumers who were scared to eat beef after reading the 1906 novel The Jungle by Upton Sinclair.  This popular book exposed the downright disgusting sanitation and safety practices in the meat packing industry.  Anderson and Ingram wanted to give the public a feeling of cleanliness, which was reflected in the design and name of the restaurant.
White Castle's signature item was the slider, made from a tiny square burger patty cooked on top of a bed of finely chopped onions and topped with a pickle slice.  They cost just five cents each.
With Layers of ham, Swiss cheese sandwiched between soft Hawaiian Rolls and topped with a savory, buttery sauce and baked until golden…. your mouth should be watering about now!
This is a classic recipe that everyone needs to have in their kitchen. These Ham Sandwiches are great for lunches, potlucks, parties, and dinner. Serve them with potato chips, a green salad and a fruit bowl and you have a very easy meal.
INGREDIENTS……
Sweet Hawaiian Rolls
Virginia ham
Swiss or Provolone cheese
Real butter
Worcestershire sauce
Garlic powder
Onion powder
Poppy Seeds
Soft and sweet Hawaiian rolls work beautifully for this recipe, but you can also use potato slider buns, or small plain hamburger buns.
Plan on 2-3 sandwiches per person.
If you have any left you can keep them in the freezer for up to 3 months. Place sandwiches in the fridge the night before to thaw. If you want them warm, pop them in the microwave for about 30 seconds or in the oven at 350°F for about 10-15 minutes or until heated through.
OTHER TIPS
Make them ahead of time! Get the sliders prepped and covered and pop in the fridge for up to 4 hours.
Ham and cheese sliders are best eaten right after they come out of the oven.
 Double, triple, quadruple the recipe if you are planning on feeding a lot of people!
This recipe makes 12 sandwiches, and most people eat about 2 sliders. You can easily double or triple the recipe to feed a crowd. 🙂
If you've never tried these hot ham and cheese sliders, lets make some right now. Made with simple, family-favorite ingredients, these sliders will have everyone begging for seconds!
Ingredients
2 (12-roll) package of Sweet Hawaiian Dinner Rolls. (we like using Potato Rolls.)
1 1/2 lbs Virginia Ham (NOT Honey Ham)
12 slices Swiss Cheese
1 stick real butter
2 tsps Worchestershire Sauce
1 tsp garlic powder
1 tsp onion powder
1 tsp poppy seeds
Instructions
Preheat oven to 375°

Place the bottom half of 12 rolls in a 9×13 pan. (You will need two 9 x 13 pans)

Place about 2 shaved slices of ham on each roll. Cut the cheese slices into 4 parts and place 2 small pieces on each sandwich.

Put the dinner roll tops on.

In a sauce pan mix butter, Worchestershire sauce, onion powder, garlic powder, and poppy seeds. Wait until all the butter is melted and then brush over the ham sandwiches.

Cover with foil and let sit in fridge for 1 hour or over night. (If you want to bake them right away, you can also.)

Bake for 15 minutes or until cheese is melted. Then serve.
---