Savory Roast Beef Quiche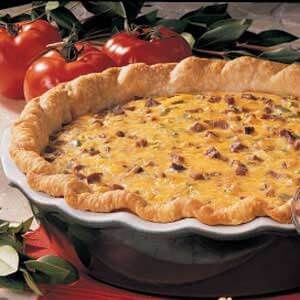 I have made this DELICIOUS Roast Beef for years. It is the perfect breakfast recipe that will become a family favorite.A quiche is made from a creamy egg filling that you can combine with different add-in ingredients, most often baked in a pie crust.This recipe is a tasty way to use leftovers. Change it up with pre-chopped ham and pre-shredded cheese.INGREDIENTS…..pastry pie crustlarge eggsdill weed,dried basil,dried oreganosalt and pepper – to taste. Try this delicious, easy basic quiche recipe…. just add a salad and dinner is done!
Ingredients
1 unbaked pastry pie crust (9-inch)
1 3/4 cup chopped cooked roast beef chopped
1/4 cup chopped green onions
1/2 cup chopped green pepper
2 cups Cheddar cheese, shredded
1 tbsp all-purpose flour
4 large eggs, beaten
1/2 cup milk
1 tbsp steak sauce
1/8 tsp dill weed
1/8 tsp dried basil
1/8 tsp dried oregano
salt and pepper, to taste
Instructions
Preheat oven to 400° F. With a fork, prick the crust several times. Bake the crust for 10 minutes.

Reduce the heat to 375°F.

Sprinkle the beef and green onions evenly into the crust.

In a medium bowl, beat the flour, eggs, milk, steak sauce, dill weed, basil, oregano, salt, and pepper until well combined. Add in the green peppers and cheese and mix well. Pour the mixture into the crust.

Bake for 25-30 minutes or until the center is set.

Allow the quiche to stand for 10 minutes before cutting.
---