Simple Recipe For 2-Ingredient Orange Sherbert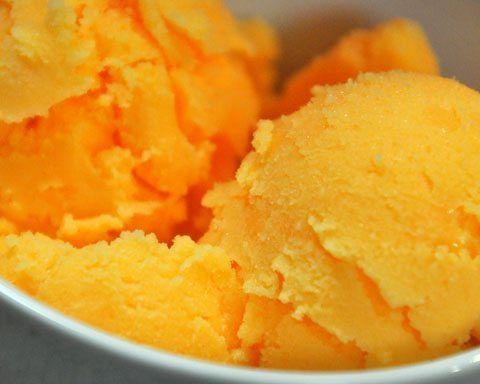 I knew when I read the recipe for Homemade Orange Sherbet I had to try it. It is made with just TWO ingredients, an ice cream maker and a bread pan.You can make this easy sherbet recipe in your kitchen right now. All you'll need it a mixer ( either a hand mixer or a stand mixer). Of course you need your freezer!Your family will love this cool summer treat!!WHAT IS SHERBERT?Sherbert is a type of frozen dessert that is made with fruit juice and contains milk or cream. It is usually lighter and not as sweet as ice cream.What a SIMPLE RECIPE with only 2 items needed…Orange soda Sweetened condensed milk. Try using different fruit-flavored sodas for this recipe… Lemon-lime, Grape, StrawberryIt's the perfect summertime treat!
Ingredients
1 liter orange soda  (this is about 4 cups)
7 oz  sweetened condensed milk
Instructions
Combine the orange soda and sweetened condensed milk in a bowl. Mix well.

Pour mixture into your ice cream maker and begin churning. Churn for about 1 hour, then once it starts to freeze, transfer to a bread pan and freeze 6-8 hours. Enjoy!
---