Cherry Pie Bars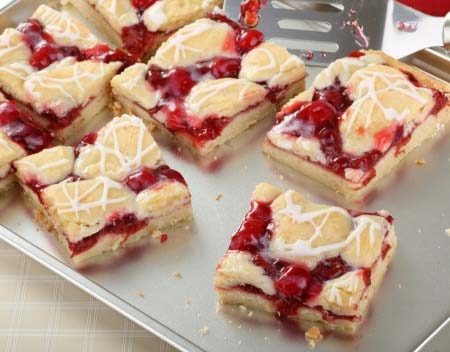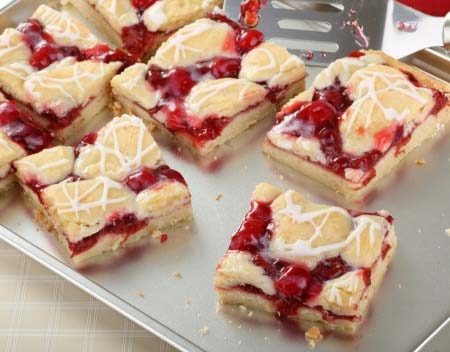 Cherry Bars
When I was the head cook at a big Retirement Place in Utah, my boss had me make her Cherry Bars recipe. They are made like a bar cookie but tastes like a pastry. I love Cherry Pie but I have to say these are better. This recipe is so easy you can whip them up in 15 minutes. Delicious! We had many residents wanting a second piece and the recipe!
Ingredients
1 cup butter
1/3/4 cup sugar
4 eggs
1 tsp almond extract
1 1/2 tsp baking powder
3 cup flour
1 large cherry pie filling
Instructions
Cream butter and sugar. Add eggs one at a time, beating after each one.

Add vanilla, baking powder, and flour; mix well. Put 2/3 of the batter in an 11×17 inch pan and spread evenly.Some people want to know why you do not just use plain vanilla. Almost extract goes so well with cherries and brings out the flavor of these yummy bars.

Spread pie filling over the top. Crop dough by teaspoonfuls over top of pie filling. Bake at 350 degrees for 45 minutes. Top with powdered sugar icing using almond flavoring in icing.  These are seriously so scrumptious.

You may substitute any flavor pie filling that you like strawberry, blueberry, or lemon.These cherry bars are a big hit on holidays, and BBQ'S! Let me know if you made them and how your family liked them.
---