Mom's Dessert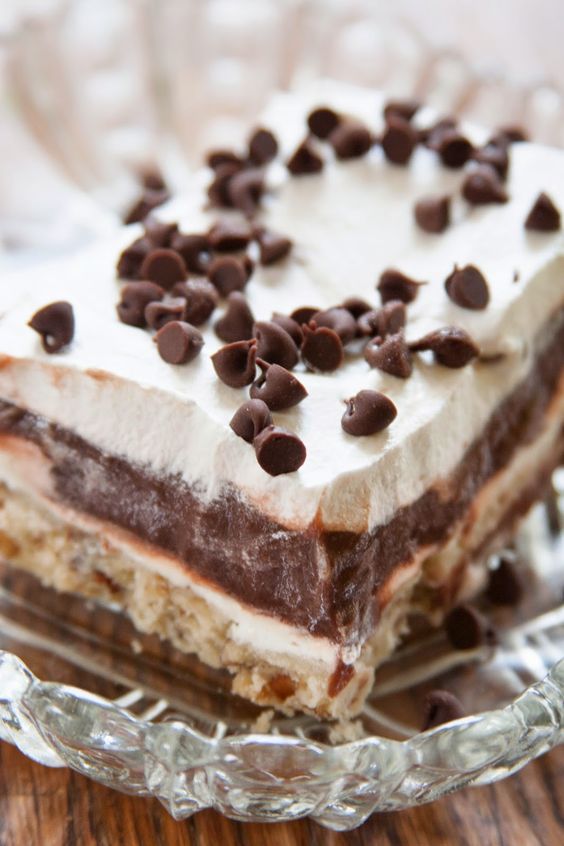 Our kids and grandkids come for Sunday Dinner most every week.. We were planning out the menu this week and my daughter asked me if I remembered the dessert I made when we lived on the farm. I had been looking through some of my old recipes and there it was. I have made this dessert for years and it's a family favorite. Everyone will want the recipe. This is NOT just a normal pudding dessert!It brings back so many memories of making it in my big country kitchen. It is a mouth-watering dessert I am sure you will make often.INGREDIENTS NEEDED….all purpose flourgranulated sugarbutter finely chopped pecans (or walnuts)cream cheese whipping creampowdered sugarvanilla extractinstant chocolate pudding mix milk I hope you enjoy this classic recipe and delicious desert. You are going to have a NEW RECIPE that everyone will want you to bring to every family party. Let me show you how to make this…
Ingredients
1/2 cup butter
1 cup flour
2 tbsp sugar
1/2 cup walnuts or pecans
LAYER 2
8 oz cream cheese
1 cup powdered sugar
8 oz Cool Whip (reserve 1 cup to put on top)
LAYER 3
1 lg pkg. Instant Chocolate Pudding
2 cups milk (can use 3 cups)
Instructions
Combine flour, butter, and 1/2 cup walnuts or pecans. Press mixture into a greased 9×13 baking dish. Bake for 15 minutes. Allow to cool.

Beat 8 oz Cool Whip, powdered sugar, and 8 oz cream cheese together. Spread over top of cooled first layer.

Beat milk and chocolate pudding together until it sets up.Spread over top of second layer.

Spread remaining Cool Whip over chocolate layer. Sprinkle chocolate chips over the top.
---