No-Bake Banana Split Dessert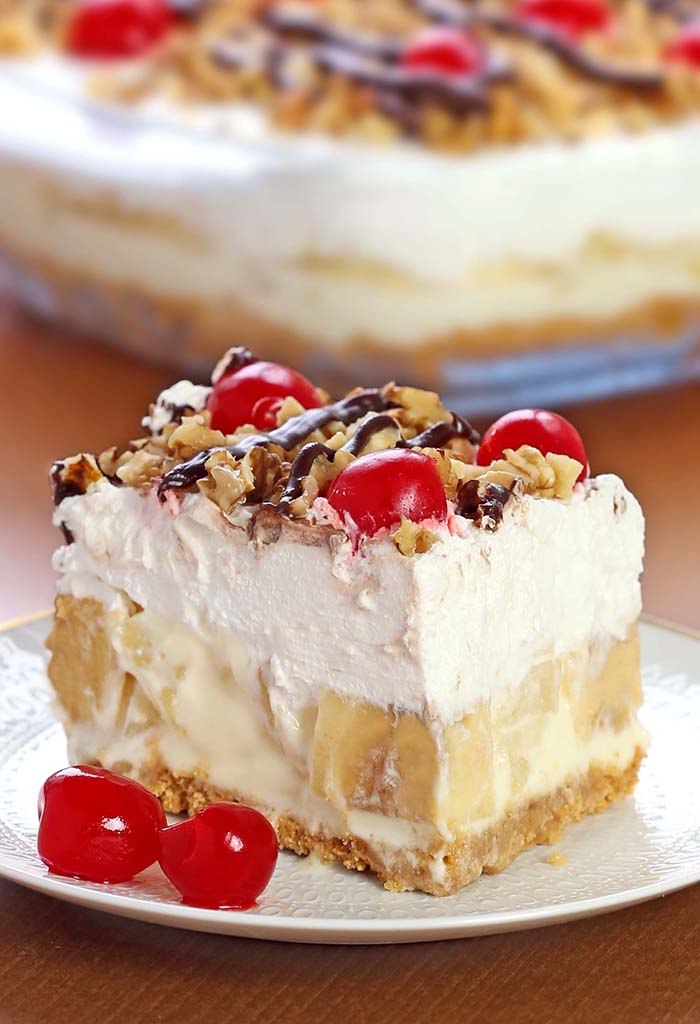 Yes I am going through old recipes again and I came across this vintage recipe I have made many many times. This NO-BAKE BANANA SPLIT DESSERT is so refreshing on a hot summer day. Your family will fight over who gets that last piece.
The filling is made up of cream cheese, unsalted butter, powdered sugar, and pure vanilla extract. The cake is topped with maraschino cherries.
The original recipe I had used raw eggs in the filling. But now I use cream cheese, along with butter and confectioners sugar instead.  I also add extra vanilla extract to give it more of a creamy flavor.  
The recipe is easy to make and perfect for those who want a sweet and light dessert. The article also suggests brushing the bananas with lemon or pineapple juice to prevent browning.
Banana Split Dessert is a classic recipe that will be a favorite for many generations. If you're looking for a dessert that's easy to make and doesn't require heating up your oven, you will love this recipe.
No-Bake Banana Split Dessert has all the fabulous flavors you'd expect from a banana split sundae. (Do not forget the maraschino cherries on the top! 🙂 
INGREDIENTS NEEDED…
Graham Cracker Crumbs
Cream Cheese
Butter
Powdered Sugar
Crushed Pineapple
Pure Vanilla Extract 
Maraschino Cherries
Bananas
Hot Fudge Sauce
Walnuts or Pecans
Cool Whip or Homemade Whipped Topping
Rainbow Sprinkles
This mouth-watering dessert is going to become your NEW favorite summer dessert!
You really need to make this.
Ingredients
1 stick melted butter
1 box graham cracker crumbs
1 8 oz softened cream cheese
1/4 cup softened butter
3 cups powdered sugar
4 sliced bananas, sliced
1 drained (20 oz) can crushed pineapple

1

(16 ounce) container Cool-Whip, thawed

1

(4 ounce) jar maraschino cherries, stemmed
1 cup chopped walnuts or pecans
hot fudge sauce, slightly warmed
1 tbsp rainbow sprinkles
Instructions
In a medium bowl, combine graham cracker crumbs and melted butter.

Firmly press into a crust in the bottom of 9×13 pan and let it chill in the freezer for about 10 minutes to firm up.

In a medium bowl, cream together the cream cheese, 1/4 cups butter, and the powdered sugar until creamy (takes about 5 minutes)

Spread the cream cheese mixture over the cooled graham cracker crust.

Add a layer of sliced bananas over the cream cheese mixture.

Spread drained crushed pineapple over the bananas.

Spread the Cool-Whip over the pineapple-banana layer.

Garnish with the pecans/walnuts and maraschino cherries.

Drizzle the chocolate fudge over the dessert and then sprinkle the rainbow sprinkles over the surface.

Chill for at least 4 hours before cutting to allow the layers to set.

ENJOY!!
---