Peanut Butter Cheerio Bars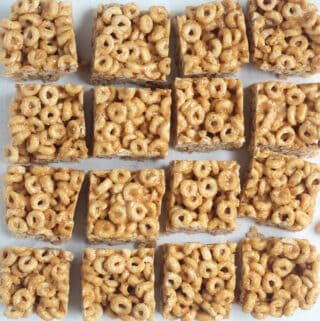 I am always looking for healthy recipes that I can share with my grown up children for their families. These easy no-bake Peanut Butter Cheerio Bars are always a hit with kids, teenagers, grandkids, and adults. I remember going to my grandmother's house and she would make some bars similar to Rice Krispie treats only they were made out of Puffed Rice. She raised 10 kids and back in the depression days they had to be so frugal to make ends meet. She would have loved this recipe.These bars are made with just 4 simple ingredients that you probably already have already in your kitchen…. Cheerios, peanut butter, and honey and vanilla.INGREDIENTS YOU WILL NEED….Cheerios Cereal….Regular, plain cheerios are perfect for this recipe.Honey…helps hold these bars together plus give them a sweet healthy flavor.Peanut Butter…..use your favorite brand of creamy peanut butter .Vanilla Extract…This is optional, but it gives these bars more flavor.This is a great recipe, and will put a smile on everyone's faces. Delicious!Let's go to my kitchen and make a batch.
Ingredients
3/4 cup peanut butter
1/2 cup honey  (no honey under 1 year old)
3 cups Cheerios
1 tsp vanilla extract (optional)
Instructions
Line 8×8" pan with aluminum foil. Set aside.

Add the peanut butter and honey to a large bowl. Warm in the microwave for 15-30 seconds, or until easy to stir. 

Add the cereal and vanilla to the bowl. Stir gently, using a spatula. It may take a minute or two to get the mixture evenly coated.

Place the mixture into a lined 8×8 dish and use your hands to press it into place.

Refrigerate for 1 hour before cutting into bars.

Store any remaining in the refrigerator.
---