Old School Lunch Lady Pizza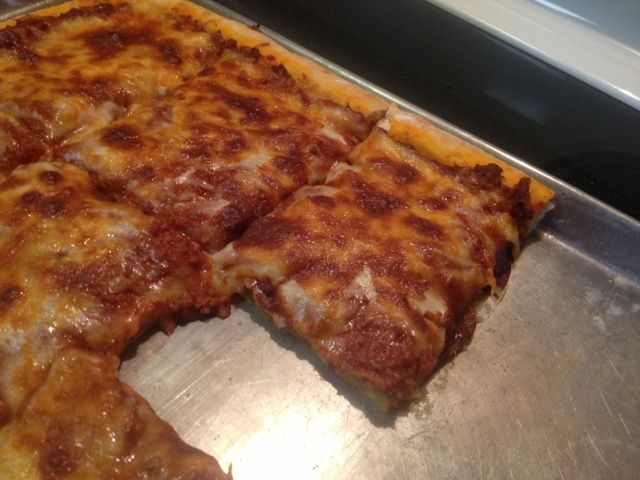 I use to work at school cafeteria as the head cook. I loved working with these kids. I remember we always made everything from scratch. My age is showing, but the food was so good and everyone would let us know that. We cooked in these big stainless steal pots with a huge spoon. We made homemade cookies, rolls, soups, croutons, plus the dough the delicious Sheet Pan School Pizza. This homemade school lunch pizza is so easy and fun to make with homemade pizza dough. Serve these rectangular pizza slices to your kids for a nostalgic dinner you'll all love. My grandma was a school cafeteria cook and she loved it. We would always talk about what we cooked and how our days went. I am glad to be part of that generation where we fed kids and knew they were getting good food. This is an easy and fun way to make a pizza that brings back some great memories!Grab your jelly roll pan and let's get started!
Ingredients
2 2/3 cup all-purpose flour
3/4 cup  non-fat dry milk powder
2 tbsp  sugar
1  packet quick rise or pizza yeast
1 tsp  salt
1 2/3 cup  warm water
2 tbsp  vegetable oil
1/2 lb  Italian sausage
1/2 lb  lean ground beef
1 jar (12 oz) pizza sauce
8 oz  part-skim mozzarella cheese shredded
Instructions
Preheat oven to 475˚F. Grease an 18"x13"x3/4" baking pan and line with parchment paper.

Microwave water for 30-60 seconds until just warm. In a large mixing bowl combine flour, milk powder, sugar, yeast and salt. Add oil to warm water and stir, then add to flour mixture and stir just until dough forms.

Pour dough onto pan and allow to rest for 5 minutes before spreading dough to edges of pan. Bake crust for 6-8 minutes.

While crust is baking brown sausage and ground beef over medium heat, breaking up the meat into as small of bits as possible with a spatula or spoon.

Top crust with pizza sauce and Italian seasoning and pepper. Add meat on top in an even layer. Sprinkle cheese on top of meat and return pizza to oven for 8-10 or until cheese is beginning to brown and bubble.

Slice and and Enjoy.
Notes
You can choose from the following toppings…Cooked ground beef or sausage, chopped pepperoni, cooked onions or mushrooms, cooked bell peppers, etc. 
---