Outstanding Oven Fried Chicken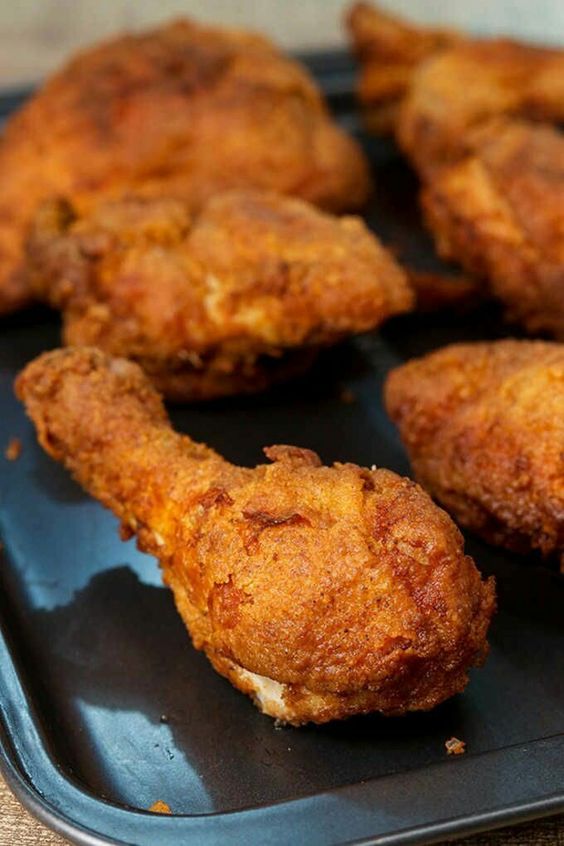 My grandma had a very tiny kitchen but she was the most amazing cook. No matter what she made it was delicious. She use to make the most delicious fried chicken you would ever eat.
I have searched for a recipe just like hers and this is the most amazing Outstanding Oven Baked Chicken that tastes like deep fried but so much healthier for you. (Grandma would love it too)
Made fresh with just a few very basic ingredients, this fried chicken is absolutely delicious.
I use to make this all the time when the kids were growing up. I still make it today. It is so delicious 😋 and it will be eaten up very quickly.
I hope you enjoy this recipe as much as we do.
Let's make it….
Ingredients
8-10 pieces  chicken thighs with skin bone-in
1 1/3 cups  all-purpose flour
1 tsp  paprika
1 tbsp garlic powder
1 tsp  pepper
2 tbsp salt
2/3 cup butter or margarine
1 onion or more if you love onions.
Instructions
Preheat the oven to 375 degrees.

Arrange half of the onions in the bottom of a 13 x 9 baking pan.

Add chicken pieces on top of the onions.

Combine flour, salt, pepper, and paprika and garlic powder. Sift together and sprinkle over chicken and onions.

Pour butter over mixture.

Bake 20 minutes, flip chicken with a pair of tongs, then bake another 20 minutes or until until chicken is brown and tender.

Serve with onions.
---