Crock Pot Cheddar Chili Mac..Family Favorite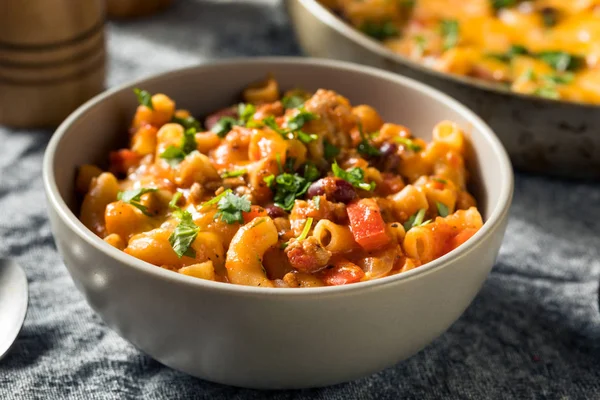 The weather is getting colder and it is time for some comfort food. Cooking in the crockpot is so convenient if you have a super busy day. CrockPot Chili Mac and Cheese cooked in a crock pot is a delicious and hearty meal for your family. It is a great weekday meal that comes together quickly and your house will smell amazing as this cooks!This recipe is one you want to save as this is one of the best one-pot meals you will make.It is a great comfort food recipe your entire family will love. Even your pickiest eaters will be asking for more.Here is what you need to make Chili Mac and Cheese in your crockpot…..ground beef, leansmall onionminced garlicchili beanscrushed tomatoesdiced tomatoesbeef brothchili powdercuminsalt and pepperelbow macaronicheddar cheese, hand shreddedAdd a salad or broccoli and dinner rolls for a mouth-watering meal your family will want again and again. You must try this recipe….
Ingredients
1 pound ground beef beef
1/2 small chopped onion
1 tsp minced garlic
2 15 oz cans dark red kidney beans drained and rinsed
1 10.5 oz can diced tomatoes with green chiles
1 15 oz  can crushed tomatoes
2 cups beef broth (If you have not tried Better Than Bouillon Beef Base it is the sooooo good. (2 teaspoons beef base + 2 cups water = 2 cups beef broth.) It adds so much flavor to soups.
1 tbsp chili powder
1/2 tsp cumin
1 tsp salt
1 tsp pepper
8 oz elbow uncooked macaroni
3 cups hand-shredded cheddar cheese
Instructions
Brown ground beef and put in the crock pot.

Add all the ingredients, but the macaroni to the slow cooker. Cook on low for 6-8 hours.

30 minutes before ready to eat, break apart the ground beef.

Stir in the macaroni.

Cover and cook until soft.

Stir in the cheddar cheese until melted.

Top with your favorite chili toppings: sour cream, and green onions.

Adapted From Cooking On a Dime.
---