Spooky Mummy Dogs For Halloween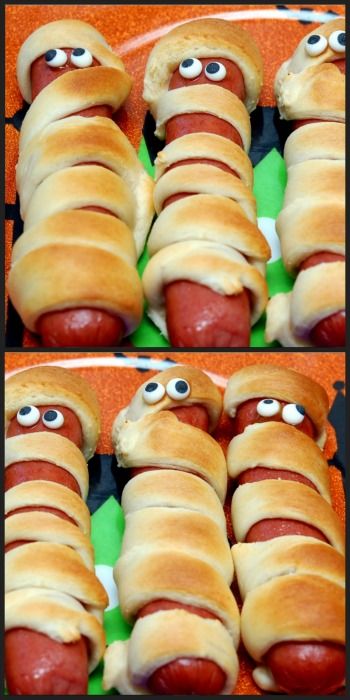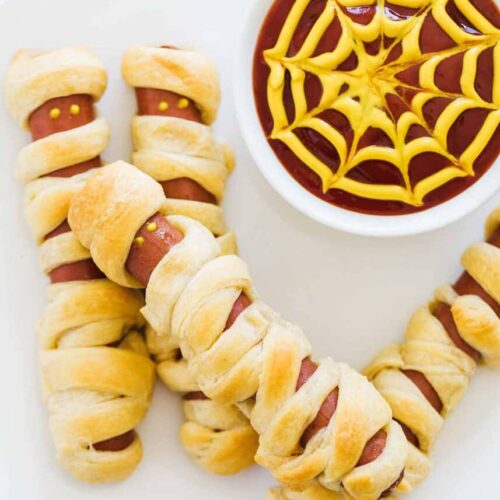 It wouldn't be Halloween without making a batch of Crescent Mummy Dogs! Such a fun twist on the old favorite, pigs in blankets and a super easy savory treat! A great food to make with kids wrapping each hot dog in mummy dough.
They are going to be a huge hit at your Halloween bash!
INGREDIENTS YOU NEED TO MAKE THESE MUMMY DOGS
Crescent Roll Dough…… just regular crescent rolls.
Hot Dogs…we use
Sliced Cheese….cheddar cheese
With a little bit of ketchup and mustard, you make a Fun Spooky Spider Web Sauce for dipping. Let me show you how….
Place ketchup in a small bowl. Then, with the mustard draw a few circles.Use a toothpick to drag out the circles into a web.
A FEW HALLOWEEN TREATS TO TRY….
Hocus Pocus Halloween Cookies–Filled with Witches Brew Ooze…from
The Soccer Mom Blog.
Monster Eye Balls Rice Krispie Bites….from
Two Sisters
Halloween Crockpot Candy….from
Sugar and Soul
Halloween Candy Bark…from
Glorious Treat
Ingredients
10 beef hot dogs
1 can  (8 oz.) PILLSBURY® Refrigerated Crescent Dinner Rolls
2 1/2  slices American Cheese quartered
Ketchup or mustard
olives or candy eyes
Instructions
Preheat oven to 375.

Cut cheese into about 16 long strips. Set aside.

Unroll crescent dough; separate into 4 rectangles. Press perforations and seams together to seal. Cut each dough rectangle into 10 lengthwise strips.

Dry off your hotdogs with paper towels.

Cut a slit in each hotdog to create a pocket to insert cheese strips.

Put a cheese strip in your hotdog before wrapping with crescent dough strips until it looks like a mummy.

Place on baking sheet.Bake mummy dogs in a 375 degree oven for about 15 minutes or until they are hot and dough is golden brown.

Using a toothpick, add ketchup or mustard eyes in the opening for the mummy dog's face. Slice up an olive to make tiny pupils.
---